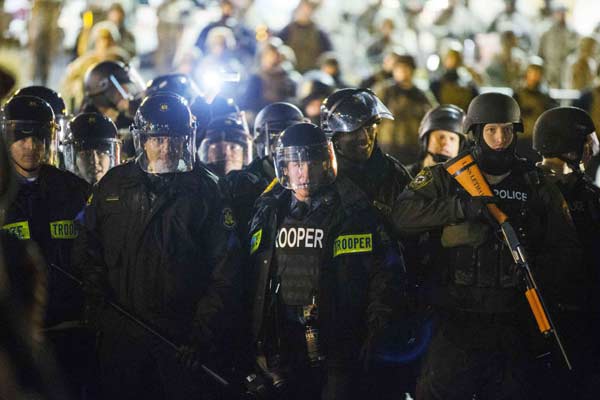 Police officers and National Guard soldiers watch protesters gathered to demand justice for the killing of 18-year-old Michael Brown, outside the Ferguson Police Department in Ferguson, Missouri in this file photo taken November 28, 2014. [Photo/Agencies]
The city manager of Ferguson, Missouri, has resigned in the wake of a US Justice Department probe that found a range of systemic racially biased practices by the police and municipal court, the city said on Tuesday.
Ferguson City Council voted unanimously at a meeting on Tuesday to accept the resignation of City Manager John Shaw effective immediately.
Shaw was among several individuals heavily criticized in the Justice Department report issued last Wednesday. Shaw had held the position in the St. Louis suburb since 2007.
The Justice Department launched an investigation into Ferguson's police department and municipal court after the Aug. 9 shooting death of unarmed black teenager Michael Brown by a white police officer.
The shooting triggered nationwide protests and widespread complaints of mistreatment of blacks by police.