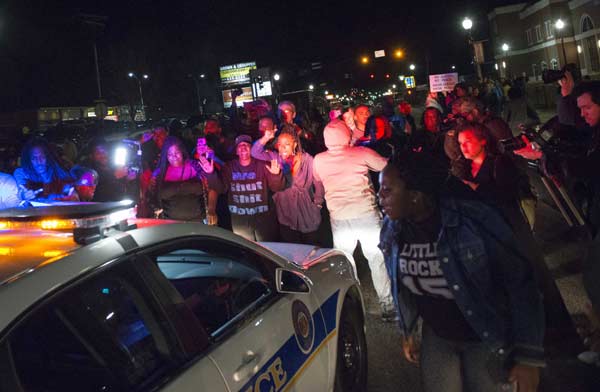 Protestors block a police vehicle from entering the City of Ferguson Police Department and Municipal Court parking lot in Ferguson Missouri, March 11, 2015. [Photo/Agencies]
FERGUSON - Two police officers were shot during a protest outside Ferguson, Missouri police headquarters early on Thursday, police said, just hours after the city's police chief quit following a damning US Justice Department report into his force.
St. Louis County Police Chief Jon Belmar told reporters a 41-year-old officer from his department was struck in the shoulder and a 32-year-old officer from the nearby Webster Groves Police Department was hit in the face around midnight as the crowd was starting to break up.
He said he did not know the conditions of the officers, whom he did not identify, but said they were both conscious and being treated at a local hospital.
"These police officers were standing there and they were shot, just because they were police officers," Belmar said.
Several dozen protesters had gathered in front of the Ferguson police department on Wednesday night, just hours after the city's police chief, Thomas Jackson, announced his resignation.
The demonstration started peacefully, but about two dozen officers clad in riot gear later faced off with the protesters. At least two people were taken into custody.
Around midnight, gunshots rang out, turning a scene of relative quiet into pandemonium. Many of the remaining few dozen demonstrators fled, some screaming, "They hit a cop," a Reuters photographer said.
The line of police scrambled, with many taking defensive positions drawing their weapons and some huddling behind riot shields, according to a video published online.
Belmar said the shooter was "embedded" among the demonstrators standing across from the officers.