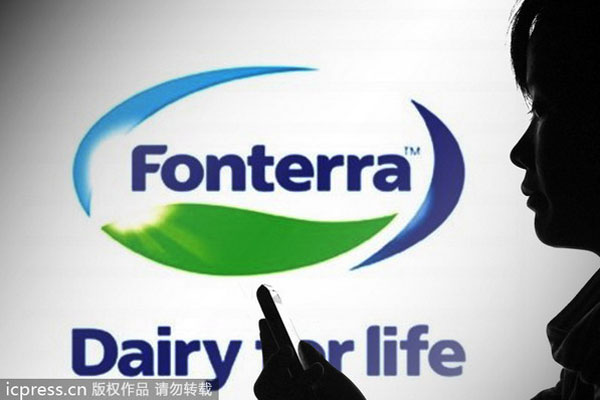 A woman uses her mobile phone in front of an advertisement for Fonterra in Jinan, East China's Shandong province, August 12, 2013. [Photo/IC]
WELLINGTON - New Zealand's dairy industry insisted it was business as usual after revelations Tuesday of a threat to poison infant formula, although they said security had been strengthened throughout the production process.
Dairy companies and industry groups moved to reassure parents after the revelation by police and food safety officials that they had failed to discover who had issued the threat in anonymous letters sent to farming and dairy industry leaders in November last year.
Fonterra Co-operative Group Ltd. Chief Executive Theo Spierings said the criminal threat targeted New Zealand and the entire dairy industry.
"We can fully assure our customers and consumers that all of our milk and products are safe and of high quality, and our supply chain continues to be secure and world-class," Spierings said in a statement.
Fonterra had worked with the Ministry for Primary Industries (MPI), the food safety regulator, to establish a validated testing regime that was being used by the dairy industry for both raw milk and dairy products targeted by the threat, he said.
Synlait Milk said it too was confident that its food safety systems and security standards protected the integrity of its products.
"We have full end-to-end supply chain control from farm to container for all milk powder and infant formula products. This includes quality testing of raw milk and comprehensive testing of finished product before it is loaded in shipping containers for export," Synlait Managing Director John Penno said in a statement.
Since becoming aware of the threat, Synlait has taken extra precautions to increase security.