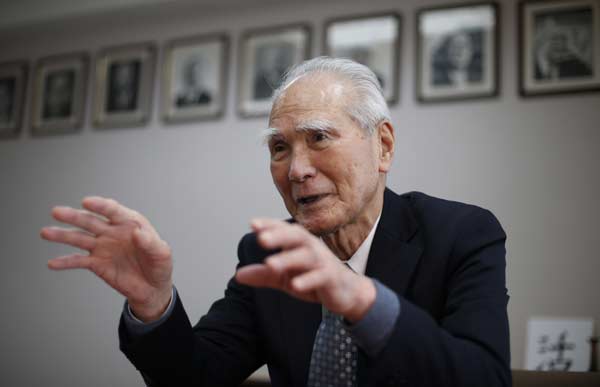 Former Japanese Prime Minister Tomiichi Murayama speaks in front of portraits of former leaders of his Social Democratic Party during an interview with Reuters at the party headquarters in Tokyo March 10, 2015. [Photo/Agencies]
TOKYO - Prime Minister Shinzo Abe risks further alienating Asian neighbours if he does not stick to the substance of a 1995 apology for wartime aggression, the man who issued the landmark statement two decades ago said on Tuesday.
Former prime minister Tomiichi Murayama, a socialist, was head of an unwieldy coalition with the conservative Liberal Democratic Party (LDP) when he made the "heartfelt apology" for the wartime damage and suffering caused by Japan. Abe, then a rookie LDP lawmaker, was one of those who opposed the move.
Now premier for a second time, Abe's conservative agenda includes adopting a less apologetic tone toward the past and revising the post-war, pacifist constitution.
Abe has said he intends to uphold past apologies, including Murayama's, but has signalled he wants to issue a forward-looking statement in his own words.
"If you listen to what Mr. Abe has said so far...it appears he wants to water down the facts of the past somewhat," Murayama told Reuters at the headquarters of the tiny Social Democratic Party, successor to the Socialist Party he once led.
"Depending on the content, this could reap the mistrust of Asia and the world," Murayama said. "There is great concern (overseas) that Japan is diluting its remorse toward the past and is lurching to the right. I worry about that."
"It is all right to change the wording, but I want him to avoid mistaking the fundamental attitude and understanding (of the Murayama Statement)."
Abe's apparent reluctance to apologise over the war dates back to his early days as a lawmaker. In June 1995, when parliament's lower house adopted a watered-down resolution of "deep remorse", he was among those who absented themselves.
More recently, he has said there is no internationally agreed upon definition of "war of aggression", raising doubts over whether he will include key phrases from the Murayama document such as "colonial rule" and "aggression" when he makes his own statement.