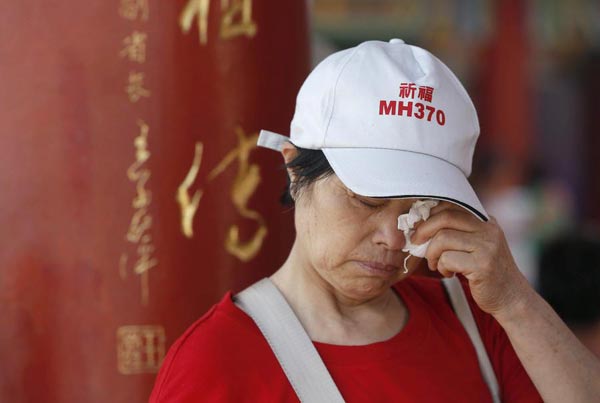 Wang Run Xiang, 58, the mother of a passenger aboard missing Malaysia Airlines flight MH370, wipes her eyes at the Thean Hou temple in Kuala Lumpur, March 1, 2015. [Photo/Agencies]
Heated debate
New York-based Wise, like many others, confessed to becoming somewhat obsessed, even buying additional satellite data in an attempt to confirm his theory the plane flew north along national borders to avoid radar before landing in Kazakhstan.
Another independent investigator, retired legal investigator John Fiorentino, whose early challenges to reports of sightings of wreckage in the Indian Ocean were taken up by families' group Voice370, has pressed on despite ill-health.
That level of devotion has led to bad blood between supporters of rival theories.
The Independent Group (IG), comprised of around a dozen satellite, data, maths and aviation experts, expelled Wise this week following articles linked to his book.
"It's a bunch of garbage," said New Zealand-based IG member Duncan Steel.
Wise, a former pilot, has himself banned anybody who uses the word "lightning" from his website. Fiorentino has been blocked from several blogs for, he says, questioning theories.
And those theories run the gamut.
Alongside Wise's Russian theory is the suggestion by the boss of former French regional airline Proteus, Marc Dugain, that the plane flew towards the US Navy base at Diego Garcia and was shot down.
Right to know
IG, perhaps the most credible of the groups, has maintained that the plane is in the southern Indian Ocean, near the so-called "7th arc" currently being searched by an Australian-led international team, with whom it has been in regular contact.
But the group stresses that missing data would more clearly pinpoint the resting place and that it may well be outside the current search area.
Many of the bloggers cite the right for relatives and loved ones of the missing to know what happened as a driving factor.
Sarah Bajc, the partner of passenger Phillip Wood, is thankful for the persistence of those who continue to pursue their own investigations into what happened.
"I'm exceedingly grateful for the efforts put forth by the IG ... they are invaluable to point out the inaccuracies of the fabricated story we have been told," Bajc said by email.
Bajc, however, does not subscribe to IG's theory, believing that the plane is not in the southern Indian Ocean at all.
"I want an independent investigation ... perhaps led by the U.N.," she said. "Despite extensive efforts we still have no idea why MH370 went silent at Igari, or where the plane is now."