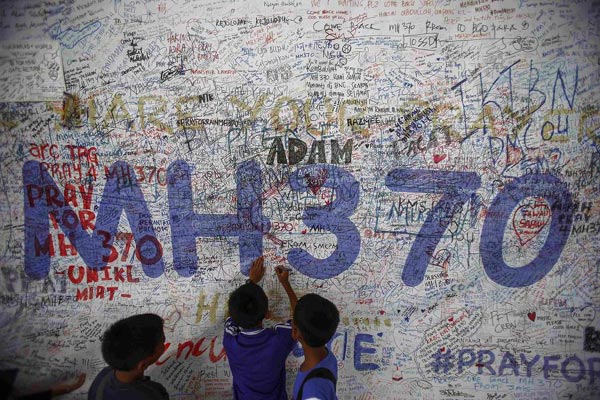 Children write messages of hope for passengers of missing Malaysia Airlines Flight MH370 at Kuala Lumpur International Airport (KLIA) outside Kuala Lumpur June 14, 2014. [Photo/Agencies]
SYDNEY - A year on from the disappearance of Malaysia Airlines Flight MH370, an extraordinary amount of key data remains unknown - fuelling conspiracy theories and heated online debate about one of aviation's biggest mysteries.
An information vacuum has nourished a cottage industry of experts and amateurs in cyberspace who continue to exhaustively pick the case apart in a bid to find out just what happened to the plane and its 239 passengers and crew.
The resulting theories range from the wild - alien abduction, MH370 and its doomed fleetmate MH17 were the same plane - to sober, science-based arguments that the plane is in the southern Indian Ocean, but not necessarily in the current search area.
What they all agree on is that some key pieces of the puzzle are missing.
"It's amazing how much information we don't have after looking at this case for all this time," said Jeff Wise, an aviation expert whose recently published Kindle book 'The Plane That Wasn't There' reached No 1 on Amazon's bestseller lists.
The Boeing 777 lost contact with air traffic control shortly after taking off from Kuala Lumpur, bound for Beijing, early on March 8, 2014, as it flew across the Gulf of Thailand close to a navigational waypoint called Igari.
Just about everything that happened thereafter is hotly debated.
Malaysia's air force said its radar tracked the plane as it turned back, re-crossed the Malay Peninsula and flew out of range off the northwest coast.
Official investigators used analysis from British firm Inmarsat of "pings" to its satellite from MH370 to plot two vast arcs - one to the north and one to the south - across which it may have flown. Combining those faint pings with data from the plane, they concluded it had turned south and flown for hours before crashing into the southern Indian Ocean.
That conclusion has been challenged by aviation bloggers and freelance investigators, who have questioned key radar plots and assumptions about the speed and fuel burn of the jet.
Lending credence to some of the sceptics, Tim Clark, head of Emirates Airlines, said last November he believed information was being withheld and questioned the Malaysian military's assertion that it took no action because it identified MH370 as "friendly" when it suddenly reversed course.
The Malaysian government, which is due to release an interim report on the investigation before the March 8 anniversary, has always denied withholding information and said its position was unchanged.