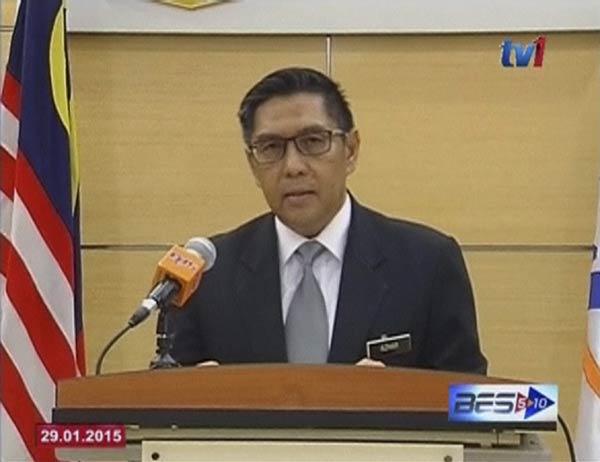 Department of Civil Aviation (DCA) Director-General Azharuddin Abdul Rahman gives a statement in Putrajaya January 29, 2015, in this still image from a RTM video. [Photo/Agencies]
CANBERRA -- The Australian government remains committed to the search for MH370, the Joint Agency Coordination Center (JACC) for the search of MH370 said in a statement on Friday.
Malaysian Airlines flight MH370, with 239 people on board, disappeared shortly after taking off from Kuala Lumpur on March 8, 2014 en-route to Beijing.
Director General of Malaysian Department of Civil Aviation Azharuddin Abdul Rahman said on Thursday that the Malaysian government officially declared the disappearance of MH370 an accident, and all 239 people on board the plane were presumed dead.
"The Australian Government notes the declaration of accident relating to the disappearance of Malaysia Airlines flight MH370 that was delivered by the Government of Malaysia," the JACC statement said.
"We understand that the families of those on board MH370 are experiencing enormous grief, heightened by not knowing the circumstances under which the aircraft disappeared."
"Providing support to those families, particularly at this difficult time, will continue to be a priority," the statement added.
"The Australian Government will continue to work collaboratively with the Governments of Malaysia and the People's Republic of China in service of the families of those on board and the wider travelling public."