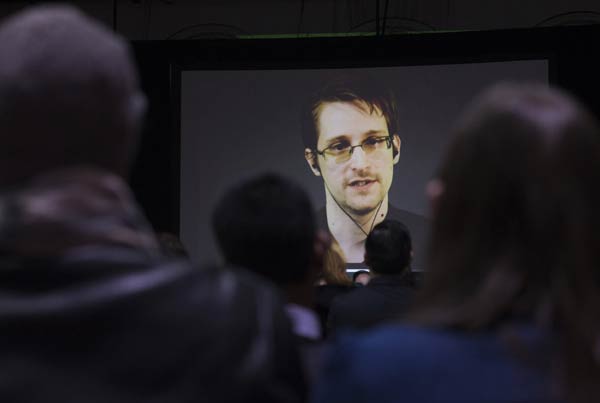 Former US National Security Agency contractor Edward Snowden appears live via video during a student organized world affairs conference at the Upper Canada College private high school in Toronto, in this file photo taken February 2, 2015. [Photo/Agencies]
MOSCOW - A Russian lawyer for Edward Snowden said on Tuesday the fugitive former US spy agency contractor who leaked details of the government's mass surveillance programmes was working with American and German lawyers to return home.
In Washington, US officials said they would welcome Snowden's return to the United States but he would have to face criminal charges which have been filed against him.
Snowden's lawyer, Anatoly Kucherena, who has links to the Kremlin, was speaking at a news conference to present a book he has written about his client. Moscow granted Snowden asylum in 2013, straining already tense ties with Washington.
"I won't keep it secret that he... wants to return back home. And we are doing everything possible now to solve this issue. There is a group of US lawyers, there is also a group of German lawyers and I'm dealing with it on the Russian side."
The United States wants Snowden to stand trial for leaking extensive secrets of electronic surveillance programmes by the National Security Agency (NSA). Russia has repeatedly refused to extradite him.
Snowden has said in the past he would like to return home if he was assured he would be given a fair trial.
A deeply divisive figure, he is praised by some as a civil rights campaigner and whistleblower and condemned by others as a traitor who compromised US security. Kucherena said in August Snowden had been given a three-year Russian residence permit.
US Justice Department spokesman Marc Raimondi told Reuters: "It remains our position that Mr. Snowden should return to the United States and face the charges filed against him. If he does, he will be accorded full due process and protections."
The US position is that "Snowden is not a whistleblower. He is accused of leaking classified information and there is no question his actions have inflicted serious harms on our national security," Raimondi said.