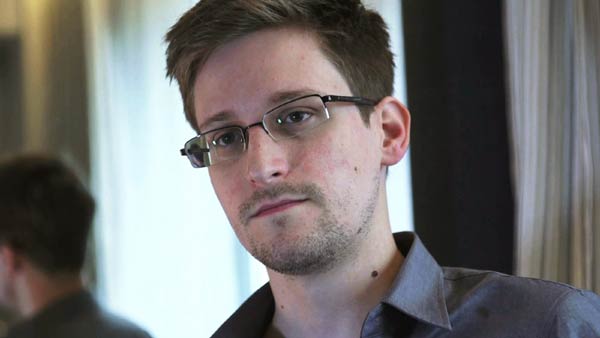 NSA whistleblower Edward Snowden, an analyst with a US defence contractor, is seen in this file still image taken from video during an interview by The Guardian in his hotel room in Hong Kong June 6, 2013. [Photo/Agencies]
NEW YORK - Edward Snowden, "Citizenfour" director Laura Poitras and journalist Glenn Greenwald had a kind of reunion Thursday, their first time together publicly since clandestinely meeting in a Hong Kong hotel in 2013.
Snowden appeared on video link from Russia, joining Poitras and Greenwald for a talk conducted by New York Times media columnist David Carr. The conversation was held in the newpaper's New York headquarters shortly before Carr collapsed and died. They spoke about the Oscar-nominated documentary, which chronicles Snowden's leak of National Security Agency documents.
Snowden said he initially refused Poitras' wish to film their encounter but she eventually convinced him. He called the documentary "incredible," but regretted his presence in the film, comparing his analytical instruction to Dustin Hoffman in "Rain Man."
Snowden figures to be a conspicuous absence from the Academy Awards on Feb. 22, at which "Citizenfour" is the favorite to win the documentary Oscar. He said living in Moscow he's busier than he ever was as a National Security Agency employee, but life is more rewarding as he continues to speak out about governmental surveillance.
Snowden said he remains confused why the US revoked his passport midway in his initial flight from Hong Kong. He said his destination was Latin America, and claimed it would have been easier for the US to extradite him from there than from Russia, which has granted him asylum.
He said he has no regrets, even if some label him a traitor.
"If you're not willing to be called some bad names to serve your country, you really don't care that much about your country," said Snowden. "So bring the names on."