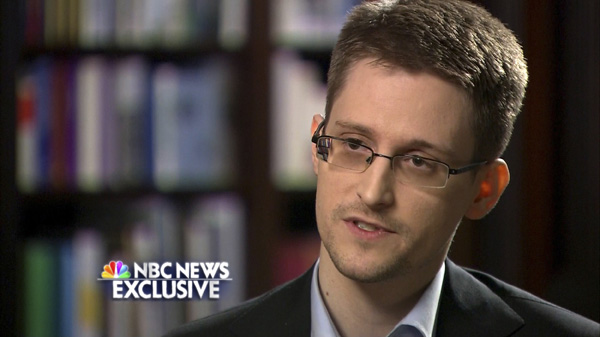 Former US defense contractor Edward Snowden is seen during an interview with "NBC Nightly News" anchor and managing editor Brian Williams in Moscow in this undated handout photo released May 28, 2014. [Photo/Agencies]
THE HAGUE -- American whistleblower Edward Snowden has reaffirmed his doubts about the effectiveness of massive wiretapping, citing the recent attacks in Paris as an example.
"France passed one of the most intrusive, expensive surveillance laws in all of Europe last year and it did not stop the attack," Snowden said in an interview broadcast by Dutch TV channel NOS on Wednesday. "This is consistent with what we have seen in every country."
The mass surveillance has not stopped a single attack in the United States, he said. "It didn't stop the attacks in London, didn't stop the attacks in Spain, didn't stop the attacks in Boston."
Snowden came to international attention in June 2013 after disclosing thousands of classified documents he acquired while working as a contractor for the U.S. National Security Agency (NSA). He is charged in the United States with espionage and was granted asylum by Russia in August 2013.
Currently, the Dutch government is studying its new intelligence laws and the call for an even broader tapping capacity covering even all internet cable traffic such as emails.
Snowden said this is unnecessary and mass surveillance doesn't prevent attacks or help capture terrorists, noting the Boston Marathon bombers who killed three people and wounded more than 260 in April, 2013, had been known to the NSA prior to the attacks.
"The problem with mass surveillance is that you are burying people under too much data," he explained.
In July 2013, Snowden handed asylum applications to several countries, including the Netherlands. However, the asylum request at the Dutch Embassy in Moscow was chanceless, because the Netherlands has no embassy asylum anymore.
During the NOS interview in a Moscow hotel, Snowden admitted that he would still love to come to the Netherlands. For now he will continue to stay in Russia on a three-year residence permit that enables him to stay there until 2017.