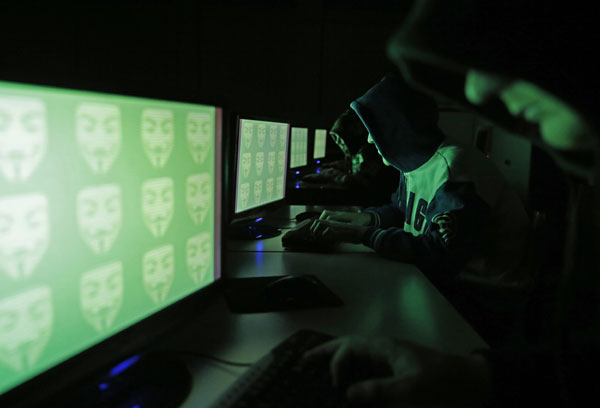 People pose in front of a display showing the word 'cyber' in binary code, in this picture illustration taken in Zenica December 27, 2014.[Photo/Agencies]
Beijing hit back on Tuesday at criticism from United States President Barack Obama over a counter terrorism law being considered by Chinese lawmakers.
The Chinese Foreign Ministry said it makes perfect sense to protect information security using the country's own legislative system.
Ministry spokeswoman Hua Chunying said implementing the nation's first counter terrorism law is a "very necessary" requirement to combat terrorism and information leaks.
"We oppose any kind of cyber surveillance actions using information technology advantages.
"All countries are paying the highest attention to information security nowadays, and no one is in a position to criticize other countries' moves in protecting information safety," Hua said.
She was responding to comments by Obama that China should review the law to ensure smooth economic ties with the US.
China is likely to ask domestic and overseas information technology vendors to hand over critical information, such as encryption keys, passcodes and software source codes referencing the law.
US companies, including IBM, Oracle and Microsoft, have major concerns about submitting such data to the Chinese government.
They cite the significant business value of the information and say such a move may damage company credibility for some customers in the US.
The Obama administration fears China's tightening grip on information safety will harm the interests of US technology vendors that dominate the high-end IT market in China.