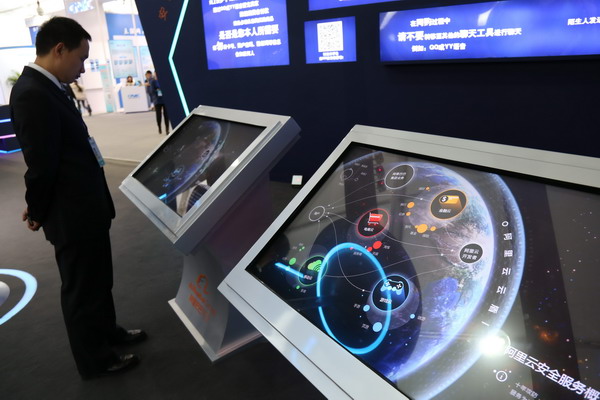 A man looks at Aliyun cyber security services, platform provided by Alibaba, which is shown at a cyber security exhibition on Nov 24, 2014. [Photo by Wang Yueling / Asianewsphoto] 
BEIJING -- In light of successive revelations in recent years of spying scandals perpetrated by the United States with its sophisticated hacking technology, it is justifiable for China to strengthen cyber security regulation amid growing technology trade between the world's two leading economies.
Last month, cyber security firm Kaspersky Lab unveiled a new surveillance and espionage technique mastered by the US National Security Agency (NSA), evoking memories of shocking disclosure of its massive surveillance program that even includes eavesdropping on leaders of Washington's allies.
The "invisible sword" of cyber-hacking also targeted ordinary people as the NSA reportedly acquired contents of digital communications online from a number of US technology and Internet companies.
It is shocking that technology giants including Microsoft and Apple, which have enjoyed a strong and growing presence in people's daily life and work across the world, were also part of the notorious surveillance program.
For those hundreds of millions of or even billions of users of the high-technology products or services of those US companies, it is natural to find those products or services insecure when it comes to issues of information security and privacy.
In that case, the responsibility falls on the government's shoulder to ensure that the convenience brought about by technological progress is fully enjoyed by ordinary people without their interests being sabotaged or privacy being intruded.
If some "back doors" are indeed deliberated placed in those high-technology products or services as required by intelligence authorities, no one is more able and authorized than the government to prevent government-sponsored hackers from reaching ordinary users.
With the new rules adopted by China's banking regulator that outlines security criteria for technology products in the financial sector and that requires all foreign companies providing banking technology in China to be subject to security audits, China eyes nothing but secure and controllable application of technologies so as to protect state and business secrets from peeping eyes.
As justifiable as they are, China's efforts to strengthen cyber security and protect interests of domestic users of foreign-made high-technology products are apparently far from trade discrimination and protectionism as accused by some foreign media.
Cyber security is a common challenge facing the entire world and thus requires shared responsibility.
It is advisable for China and the United States, both leading global economies with rapidly growing technological strength, to strengthen exchange, cooperation and mutual trust for meaningful progress in enhancing cyber security.