BANGKOK - China and Thailand agreed on Friday to boost military ties over the next five years, from increasing intelligence sharing to fighting transnational crime.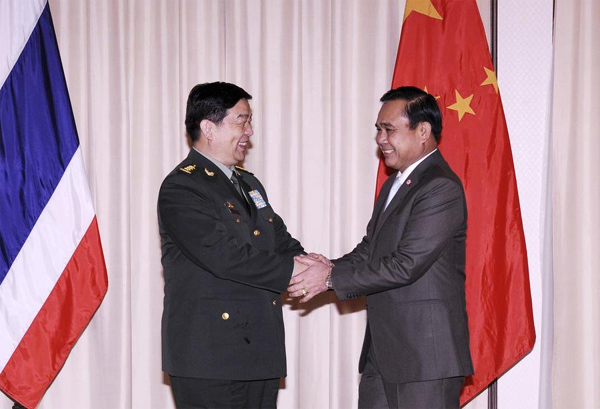 China's Defence Minister Chang Wanquan (L) shakes hands with Thailand's Prime Minister Prayuth Chan-ocha at the Government House in Bangkok February 6, 2015. [Photo/Agencies]
The agreement came during a two-day visit by China's Defence Minister Chang Wanquan to Bangkok.
"China has agreed to help Thailand increase protection of its own country and advise on technology to increase Thailand's national security," Thai Defence Minister General Prawit Wongsuwan told reporters.
"China will not intervene in Thailand's politics but will give political support and help maintain relationships at all levels. This is China's policy."
Thailand has stepped up engagement with China at a time when Beijing provides with a raft of loans and aid for infrastructure in Southeast Asia.
Prawit said Thailand and China agreed to increase joint military exercises, but did not give further details.
"We agreed to increase joint military exercises between Thailand's air force and China's air force and to increase overall military cooperation over the next three to five years," he said.
Thailand's army took control last May saying it needed to restore order after months of political unrest including street protests in Bangkok.
The junta has said it will hold onto power for at least another year, with a general election planned for early 2016.