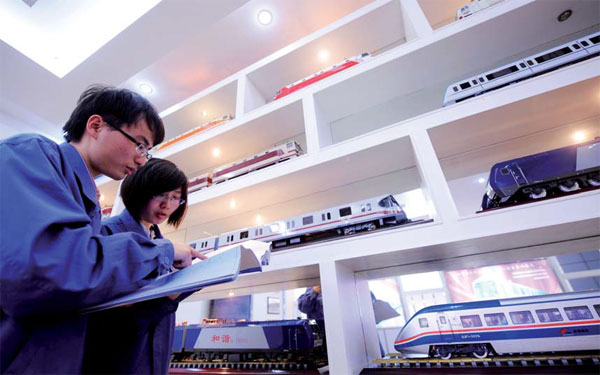 The exhibition hall for locomotive models at CSR Zhuzhou Electric Locomotive Co. [Photo/Xinhua]
BANGKOK - A couple of Chinese-made locomotives were delivered to Thailand on Sunday, confirmed officials of the State Railway of Thailand on Monday.
The two locomotives, shipped from Southwest China to Laem Chabang port in Chonburi province, were the first consignment of a fleet of 20 locomotives, the rest of which will be gradually shipped to the Thai railway firm.
The locomotives, manufactured by China's CSR Corp, were designed for cargo trains with an axle load of 20 tons and a maximum speed of 120 kilometers per hour, according to the SRT officials.
The CSR locomotives were purchased to replace the General Electric locomotives which have hauled Thai cargo trains since 1995. No other locomotives had been bought since.
Compared to the relatively modern CSR locomotives, the old GE locomotives have an axle load of 14 tons and a maximum speed of 100 kilometers per hour.
The other 18 new locomotives are yet to be delivered from Sichuan province in China where they are being manufactured by CSR Corp, the officials said.
In another development, China recently agreed to build a medium- speed rail system for Thailand as part of a joint effort to promote land traffic throughout the Southeast Asian region.
The Chinese medium-speed rail project is designed to run from Yunnan province in southern China to northeastern Thailand via northern Laos.
The rail system will pass Nong Khai province in northeastern Thailand, from across the Lao capital of Vientiane, and Saraburi province in the central region of Thailand with destinations in Bangkok and Maptaput port in the eastern part of the country.
The medium-speed train will not only carry passengers but also cargoes to Thailand which is joining an ASEAN Economic Community, scheduled to open later this year.
Thailand has planned to become core of the AEC bloc in following years, regarding land-based logistics, rail systems and road traffic linking the Southeast Asian country with its neighbor states including Cambodia, Myanmar, Malaysia and Laos.
Besides the expanding rail systems, six-lane motorways will be built to connect Kanchanaburi province in western Thailand with Dawei special economic zone in southern Myanmar and to link eastern Thailand with northwest Cambodia, among others.