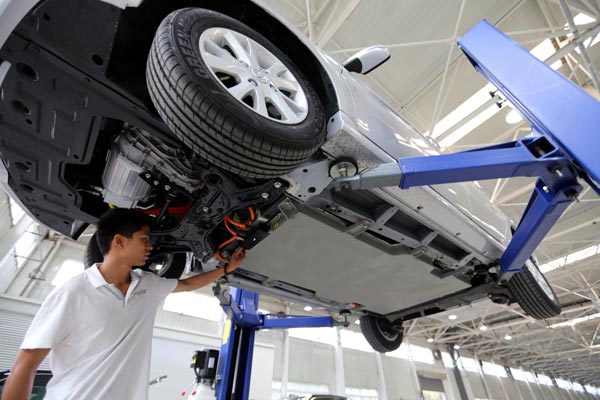 A technician checks a car battery at the production line at BJEV, the new-energy vehicle arm of BAIC Motor, in Beijing.  Wang Zhen / For China Daily
Huge drive needed to meet government goals despite promising sales last year
An uphill battle looms large for China's new energy vehicle sector despite the fact 2014 was tipped to be the starting point of the alternative fuel vehicle era after promising sales performances.
China sold 53,000 new energy vehicles in the first 11 months of 2014 and an estimated 60,000 in the whole year, 3.5 times the figure in 2013.
Despite the surge, it seems to be an exceedingly difficult - if not impossible - task to achieve the central government's goal of selling 330,000 new energy vehicles in 39 cities or clusters of cities from 2014 to 2015.
"Four fifths of the sales goals are still to be finished in the next year," said Wang Binggang, a senior expert of the nation's new-energy vehicle program, at an industry summit in late December.
Wang said that meant 270,000 new energy vehicles would have to be sold in 2015, 4.5 times the figure in 2014.
"Some local authorities will be forced to resort to 'unconventional wisdom'. Otherwise, they will be kicked off the list of cities where new energy vehicle purchasers are eligible for central government subsidies," Tang Lin, a senior executive at Shenzhen BYD Daimler New Technology Co, told the Economic Observer.
Ironically, authorities in some cities have not shown enthusiasm for the job, said Wang. "In some cities we could not even find those in charge of promoting new energy vehicles when we went to inspect how things were going there," he said.
Industry insiders explained that despite the central government's favorable policies, it usually takes time for local governments to come up with their own policies and the delay had, to some extent, dampened the enthusiasm of local new energy vehicle makers and customers.
Chen Feng, president of Hangzhou-based automaker Skio agreed. "Even now the city government has not yet released its policies about subsidies," he said at an industry meeting in late December.
In addition to the subsidies, the central government released a series of policies to stimulate the development of the new energy vehicle industry.