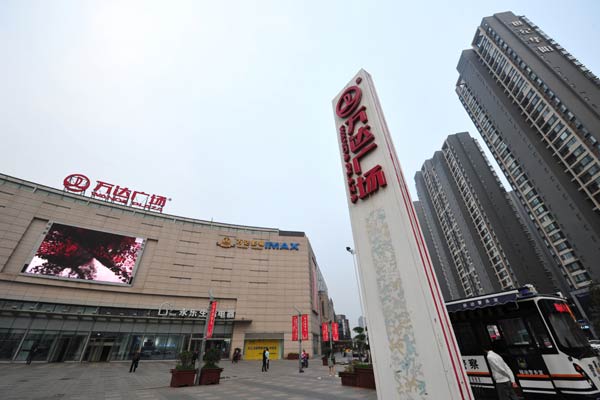 Wanda Plaza in Luoyang city, Central China's Henan province, Oct 11, 2014. [Provided to China Daily]
Chinese conglomerate Dalian Wanda Group Co recently raised 1 billion yuan ($161 million) for its e-commerce joint venture with Internet giant Baidu Inc and Tencent Holdings Ltd.
Wanda, the commercial property developer controlled by Chinese billionaire Wang Jianlin, said on its official website on Sunday that two overseas Internet funds have offered 1 billion yuan to buy 5 percent stake in its e-commerce joint venture.
The round of funding values the Wanda e-commerce firm, which is registered in Hong Kong, at 20 billion yuan.
Wanda, Baidu and Tencent jointly formed the e-commerce company in August. Wanda owns 70 percent of the joint venture while the two Internet giants slip the rest 30 percent.
The goal is to build it into the world's largest online–to-offline business with plan to invest 20 billion yuan in the next five years.
Wanda said earlier that it wants to develop online–to-offline-based e-commerce into the group's fifth "pillar industry" by 2020 after real estate, cultural tourism, finance and retail.