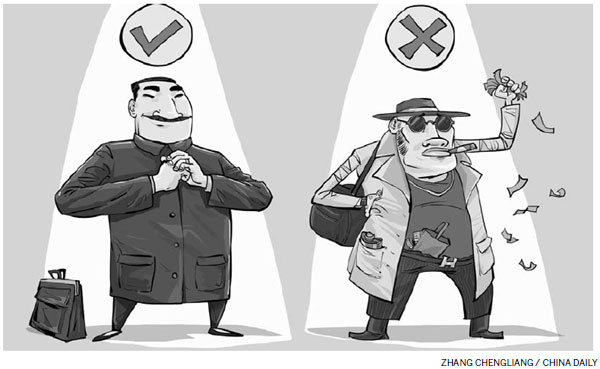 China must keep counteracting false stereotypes about its role in developing regions such as Africa
The scale of China's global engagement is astonishing. China is the key trading partner for most countries in the world and plays a central role in many international organizations and multilateral institutions.
Chinese companies operate in diverse economic sectors across the globe. After the global financial crisis broke out in 2008, China emerged as the world's leading creditor, overtaking the World Bank. Of the $500 billion it invested overseas between 2005 and 2012, three-quarters went to the developing world.
With much of the Western world reeling, China was responsible for holding up an ailing global economy in dire straits. Chinese investment and trade in the developing world has contributed to strong growth, particularly in Africa, where there is greater optimism than at any time since the wave of independence in the 1950s.
The story of China's transformation from relative recluse to leading actor on the international stage is dramatic. At the beginning of the era of reform and opening-up in 1978, China was only just beginning to emerge from self-imposed isolationism. There were multiple sources of domestic instability and external sources of national insecurity. Internationally, China was a minor player.
Under senior leader Deng Xiaoping, China made rapid progress settling and securing national borders and normalizing diplomatic relations. As economic reforms took off, particularly through special economic zones, China became enmeshed in global production networks and supply chains. By the time China entered the World Trade Organization, "going out" was the obvious strategy for Chinese companies seeking resources, investment opportunities and markets globally.
Structural reforms in the Chinese economy ushered in a wave of outward migration, albeit less radical than the one accompanying the great urbanization project underway in China itself, which has resulted in individual Chinese traders and workers contributing to far-flung economies often in the most unpromising circumstances.
As Spanish writers Juan Pablo Cardenal and Heriberto Araujo put it in their book China's Silent Army, these are the "anonymous people with a limitless capacity for self-sacrifice who brave prejudice and uncertainty to set up businesses in the most unlikely places".
State companies and private individuals are the two most visible faces of China's global engagement. In global media discourse, dominated of course by Western media narratives, they have given rise to erroneous myths about China's activities and intentions that have solidified into something approaching conventional wisdom.
China is described as a neo-colonialist that only cares about securing natural resources and uses its economic power to entrench its influence around the world, even suggesting an alternative "Beijing Model". This is a jaundiced and announced perspective.
In many cases the buoyancy of developing economies such as those in Africa can be traced directly to their engagement with China. The key issue now, as populations grow and resources dwindle, is how African governments use current income to plan for future development. China's contribution to the development of roads, railways, hospitals, bridges, airports, dams and schools will be invaluable to finding a route to sustainable modernization.
Meanwhile, waves of Chinese migration are said to be threatening to overwhelm local populations. This is clearly ludicrous.
The actual number of Chinese migrants is often exaggerated, sometimes becoming politicized by opposition or nationalist politicians, which is what happened in the Russian Far East in the 1990s and more recently in Zambia. In reality, Chinese migration is not unmanageable. There is a total of around 1 million Chinese across the entire African continent. Where tensions have occurred, it is in locales with small populations where seemingly negligible migration can have an unbalancing effect.