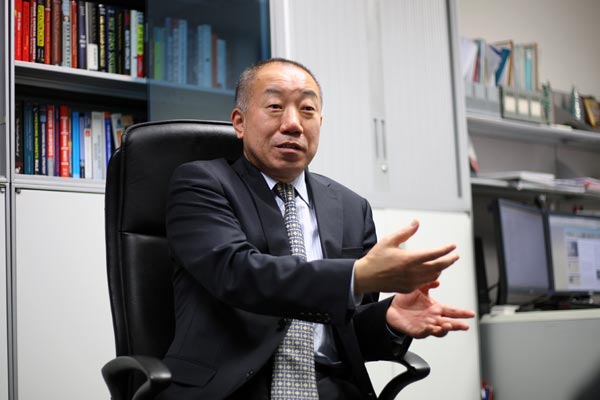 Wu Changqi, professor of strategic management at Guanghua School of Management at Peking University, believes China's ODI overtaking FDI would be a milestone for the Chinese economy. [Wang Zhuangfei/China Daily]
China is on the brink of passing another milestone in its economic development
Investment flows in and out of a country do not usually excite much interest-but in the case of China, 2014 may prove an exception.
Many analysts believe the country's outbound direct investment may exceed its inward foreign direct investment for the first time, a landmark event.
It reflects a coming of age of leading Chinese companies such as telecommunications giant Huawei and computer giant Lenovo; and also the power of the country's investment not just in Europe but in emerging markets like Africa and elsewhere.
The full picture will not be known until the new year when the Chinese government publishes the final year figures.
But the latest data issued on Dec 16 showed that in the first 11 months of 2014, ODI at $89.8 billion was only $16.44 billion behind FDI on $106.24 billion.
Shen Danyang, Ministry of Commerce spokesman, strongly indicated ODI was set to overtake FDI for the full year.
A report by the Center for China and Globalization, a Chinese think tank, published in October, also predicted that China's ODI would have reached and probably exceeded a record $120 billion last year.
If it does reach this level, it would mean the government had easily achieved its current Five-Year Plan (2011-15) objective to equalize investment flows.
It would also be a continuation of a trend that began early this decade when China's ODI was virtually zero.
From 2000, it rose almost exponentially (more than a hundred-fold)-particularly after China's accession to the World Trade Organization in 2001-from just $1 billion to $107.84 billion last year.
FDI increased 130 percent from $53.5 billion to $123.91 billion over the same period.
Wu Changqi, professor of strategic management at Guanghua School of Management at Peking University, believes China's ODI overtaking FDI would be a milestone for the Chinese economy.
"In the past 30 to 35 years China has been a destination for foreign direct investment, and now this is beginning to change."