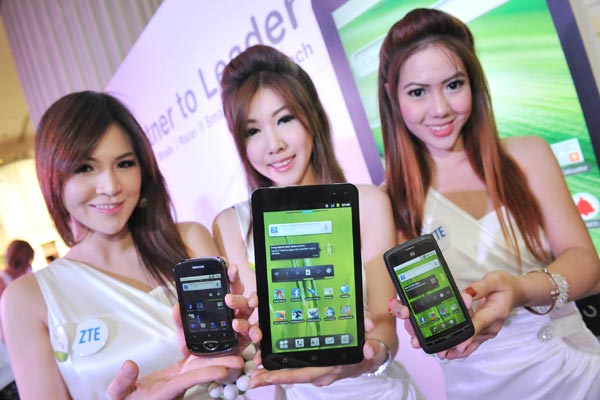 Models demonstrate mobile products of ZTE Corp at a press conference in Bangkok. Chinese mobile brands sold across Southeast Asian countries are still considered low-end products. [Photo/Xinhua]
Chinese smartphone makers are still having to work hard at growing brand awareness in Southeast Asia, despite the huge strides having been made by the country's top producers elsewhere in the world.
According to a report released by The GfK Group, Germany's largest market research institute, nearly 120 million smartphones were sold across seven major Southeast Asian countries between September 2013 and August 2014, a 44 percent increase in volume compared with the same period a year ago.
The study also revealed there are a staggering 345 different Chinese-branded smartphones jostling for sales in the region, with strong sales particularly in Indonesia, Malaysia, and Vietnam, where their respective proportions of consumer spend have reached more than 10 percent of the total market.
But according to Rujipun Assarut, a senior researcher with the Kasikorn Research Center in Bangkok, despite those numbers, Chinese mobile brands sold across the region are still considered "low-end products, especially in the most competitive markets such as Thailand".
"If Chinese brands want to explore further potential in the market, how to improve their image is crucial," said Assarut.
Gerard Tan, account director for Digital World at GfK Asia, explained that the region's most-developing countries remain dominant when it comes to smartphone sales, with its lesser markets still years behind in terms of sophisticated product offerings, adding "many outside the biggest cities are probably just making the switch from their basic feature phone and acquiring their first smartphone".
According to Rujipun, the leading Chinese smartphone manufacturer in Thailand was Oppo, with just a 3 percent market share in 2014.
"Oppo has quite an international name, from which it is hard to tell that it has a Chinese background; the company also hires South Korean and Western celebrities to endorse their products, so their smartphones are actually seen by many as a South Korean brand," he said.
Rujipun said a product's distribution channels, its offline promotional events and after-sale services are crucial for local brand success.
"A strong brand should also have its own flagship stores," Rujipun said.
Some Chinese companies, however, have already been working hard at improving their image across the region.