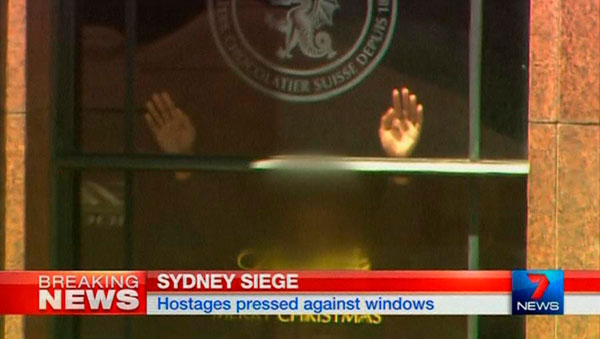 Hands are pressed up against the window of the Lindt cafe, where hostages are being held, in this still image taken from video from Australia's Seven Network, on Dec 15, 2014. [Photo/Agencies]
SYDNEY - A hostage who died during a siege in a downtown Sydney cafe was killed when she was struck by fragments of a bullet fired from a police officer's gun as authorities stormed the cafe to end the 16-hour standoff, a lawyer told an inquest on Thursday.
Katrina Dawson, a 38-year-old lawyer who was among 18 people taken hostage last month by a gunman, died after being hit by six fragments of a police bullet that had ricocheted off a hard surface, Jeremy Gormly, a lawyer assisting the coroner, told the Glebe Coroner's Court. The bullet struck a major blood vessel and she quickly lost consciousness, he said.
Another hostage, 34-year-old cafe manager Tori Johnson, was killed after gunman Man Horan Monis forced him to kneel on the floor and then fired a bullet into the back of his head with a sawed-off shotgun, Gormly said. He is believed to have died immediately. A police sharpshooter witnessed Johnson's killing, prompting police to move in, Gormly said.
The details of the deaths of Dawson and Johnson came on the opening day of the inquest into last month's siege at the Lindt Chocolate Cafe. Man Haron Monis, a 50-year-old Iranian-born, self-styled cleric with a long criminal history, took the customers and workers inside captive and forced them to outline his demands in a series of online videos _ including that he be permitted to speak to the prime minister and be delivered a flag of the Islamic State group.
The standoff finally ended when police stormed the cafe in a barrage of gunfire to free the captives. Monis was killed, along with Dawson and Johnson.
Officials had previously refused to say whether the hostages died at Monis' hand or were caught in police crossfire. The coronial inquest _ a court-like proceeding convened after unusual deaths in Australia _ is aimed at determining how they and Monis died, and whether the tragedy could have been prevented.
Gormly cautioned in his opening address that the rundown of events he was giving was preliminary, and based on his interpretation of the evidence he had seen thus far. The coroner will make the final declaration on how the hostages and Monis died.