Updated:
A swarm of heavily armed police stormed a cafe in the heart of downtown Sydney early Tuesday, ending a siege where a gunman had been holding an unknown number of people hostage for more than 16 hours.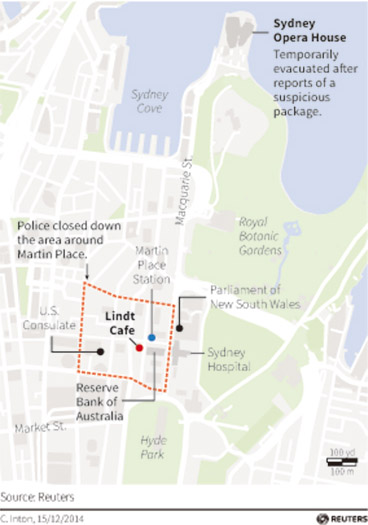 Map of central Sydney locating the café were an armed assailant held an unknown number of hostages on Monday. [Photo/Agencies]
3 dead, including gunman
Police said three people were killed - the gunman and two of the hostages - and four others were wounded. [Full report]
Sydney siege is over: police
Police say a hostage situation in Sydney is over after a swarm of heavily armed police stormed a downtown cafe where a gunman had been holding an unknown number of people. A police spokesman confirmed "the operation is over" early Tuesday but would not release any further details. [Full report]

Police storm Sydney cafe as more hostages flee
An update from SMH reporter James Robertson, who is near the scene at Martin Place: "Police and paramedics have stormed the building. Dozens of continuous bangs and possibly gun shots have lit up the sky."
More gun shots are now being fired, a couple of minutes after the first volley. Additional hostages appear to have been moving from the cafe.

Siege hostages 'our number one priority'
"We are doing all we can to set you free" is the message from the Premier and Police Commissioner to those held hostage.

Major US front pages on the Sydney hostage siege
The hostage siege at Lindt Cafe in Martin Place has been given prominence on the front pages of newspapers in the United States where there is great sensitivity to any terrorist-related attacks. The siege in Sydney follows 'the lone-wolf' attack on Canada's war memorial and parliament in Ottawa by an Islamic State sympathiser.

Australian hostage taker named as Iranian refugee
An Iranian refugee convicted of sexual assault and known for sending hate letters to the families of Australian soldiers killed overseas is the armed man holding an unknown number of hostages in a Sydney cafe, Reuters said quoting a police source.
Man Haron Monis, an Iranian refugee and self-styled sheikh, remained holed up in the cafe some 15 hours after the siege began.
"There's no operational reason for that name to be held back by us now," said the police source, who declined to be identified. [Full report]

Sydney siege highlights need for united fight against terrorism
The appalling Sydney siege on Monday has highlighted the need for nations of the world to stand united to fight the cancer of terrorism that is quickly spreading across the globe, said a Xinhua report.
A coalition of Muslim groups issued a statement expressing their "utter shock and horror" over the siege.
"We reject any attempt to take the innocent life of any human being, or to instil fear and terror into their hearts.
"Any such despicable act only serves to play into the agendas of those who seek to destroy the goodwill of the people of Australia and to further damage and ridicule the religion of Islam, and Australian Muslims in this country." the statement said.

A female hostage turned off the lights at 9:12 pm local time at the Lindt Cafe, as the siege remains unresolved in its tenth hour, The Sydney Morning Herald said.

NSW Premier Mike Baird and Police Commissioner Andrew Scipione predict the extension of the hostage crisis into Tuesday. "Tomorrow morning should proceed as usual," Mr Baird said during a press conference.

One of the two female hostages having escaped from the Lindt cafe has been identified as Elly Chen, a University of NSW student who works at the cafe, according to local media outlet Nine News. The image of Chen running toward police officers have been circulating online.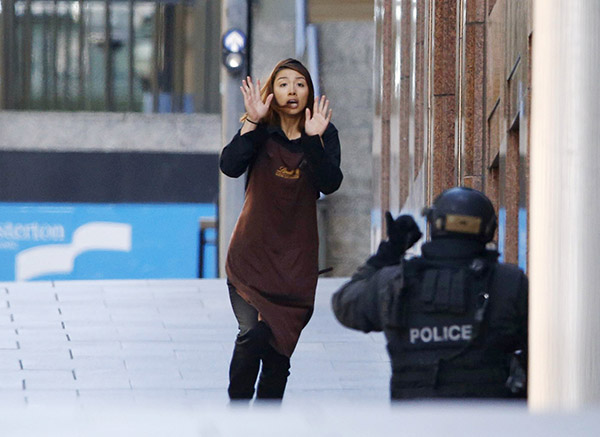 NSW Premier Mike Baird and Police Commissioner Andrew Scipione will hold a press conference at 8:15 pm local time to give another update about the hostage situation.

NSW Police have activated Task Force Pioneer, which means the hostage situation is being treated as a terrorist attack.

Channel 7 reporter Chris Reason said on Twitter that from their newsroom directly facing the cafe he could see "a mix of women, men, young and old." The gunman is "forcing them to stand against windows, sometimes 2 hours at a time."

Prime Minister Tony Abbott has delivered his second statement on the situation. "This is a very disturbing incident. It is profoundly shocking that innocent people should be held hostage by an armed person claiming political motivation. Nevertheless I can say that New South Wales police and other agencies have responded to this incident with great professionalism."

Police said they are monitoring alleged demands made on social media by hostages being held in a siege at a Sydney cafe and the "situation is contained in one area". Sydney Morning Herald said on Twitter that police have asked media not to publish such requests.
Channel 10 says the hostage taker claims there are four bombs: two inside Lindt cafe and two in Sydney CBD.
Channel 10 is the third media outlet saying they have been contacted by hostages in the Lindt cafe. The hostages said the offender has two demands.
First, they want to speak with Australian Prime Minister Tony Abbott.
Second, they want an IS flag brought to the cafe.

PM Abbott is preparing to make a short statement on the Martin Place siege following a second meeting of the National Security Committee, said Sydney Morning Herald.

Two hostages run towards a police officer outside Lindt cafe, where other hostages are being held, in Martin Place in central Sydney.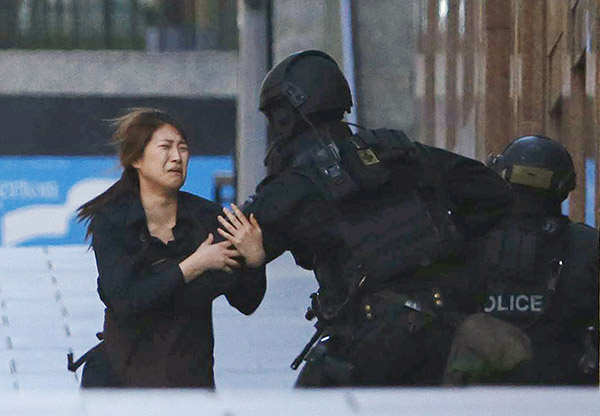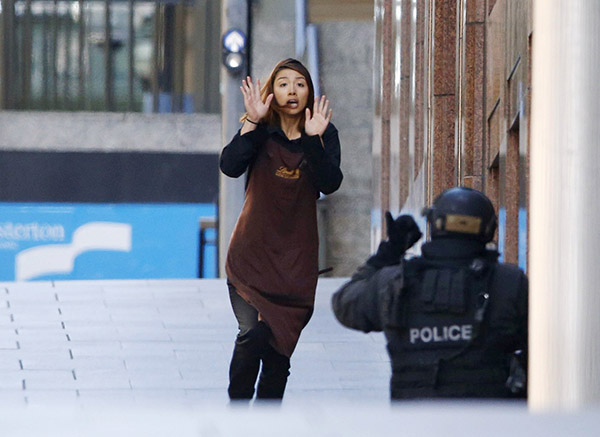 NSW police confirmed on Twitter that no one has been injured so far.

NSW Police Deputy Commissioner Catherine Burn will hold a press conference to update on the hostage situation at 6:30 pm local time.

Five hostages in total, including two females, have now escaped from the Lindt cafe, according to Sydney Morning Herald and2GB 873AM, a local radio station.
The two women were both wearing aprons indicating they were staff.
It is unclear whether the hostages had been released by the gunman or had escaped. Police, who are speaking with the three men to gather information about what is happening inside, declined to specify how many hostages remained in the cafe.

Sydney Opera House announced on Twitter that all the performances tonight would be cancelled due to the hostage situation.

Television footage earlier showed three of the hostages running from the building, including one wearing a Lindt apron.
Two men (L in blue jacket; R in white shirt) are seen running out of the Lindt cafe, where hostages are being held, in this still image taken from video from Australia's Seven Network.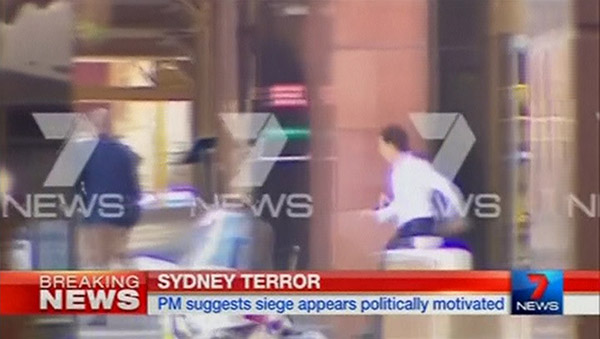 A man (2nd L in blue jacket), surrounded by armed police, gestures towards a door where he had just ran out of, outside the Lindt cafe, where hostages are being held, in this still image taken from video from Australia's Seven Network.

Australian police negotiators had been in contact with the gunman holding hostages in a Sydney cafe siege but refused to speculate on his possible motivation.
New South Wales Deputy Police Commissioner Catherine Burn declined to say how many were still being held in the cafe but said it "is not as high as 30".