SYDNEY - Australian police locked down the centre of the country's biggest city on Monday after an armed man walked into a downtown Sydney cafe, took hostages and forced them to display an Islamic flag, igniting fears of a jihadist attack.
Police said they knew of one armed assailant involved in the incident at the Lindt chocolate cafe in the heart of Sydney's financial district, but there could be more.
Police, including paramilitary officers, cordoned off several blocks around the cafe as negotiators tried to defuse one of the biggest security scares in Australia for decades. Snipers and a SWAT team took up positions around the cafe and police helicopters flew overhead.
At least five hostages have been released or escaped since the mid-morning siege began, with panicked cafe workers and customers seen running into the arms of paramilitary police.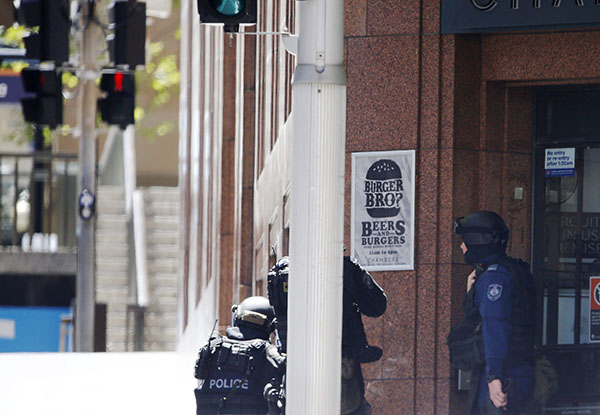 New South Wales state police officers stand at a corner near a cafe where hostages were being held by an armed man in Martin Place in central Sydney December 15, 2014. [Photo/Agencies]
About 15 hostages could still be seen inside the cafe, said Chris Reason, a reporter at Channel Seven, whose office is opposite the cafe.
"From inside Martin Place newsroom we can see gunman is rotating hostages, forcing them to stand against windows, sometimes 2 hours at a time," Reason said on Twitter.
Prime Minister Tony Abbott, who has warned of militant plans to strike Australian targets, said there were indications the hostage-taking was politically motivated.
"This is a very disturbing incident. I can understand the concerns and anxieties of the Australian people," Abbott told reporters in Canberra.
Australia, a staunch ally of the United States and its escalating action against the Islamic State in Syria and Iraq, is on high alert for attacks by home-grown militants returning from fighting in the Middle East.
"We have moved to a footing that would be consistent with a terrorist event," Andrew Scipione, police commissioner for the state of New South Wales, told reporters.
News footage showed hostages holding up a black and white flag displaying the Shahada - a testament to the faith of Muslims. The flag has been popular among Sunni Islamist militant groups such as Islamic State and al Qaeda.
The incident forced the evacuation of nearby buildings and sent shockwaves around a country where many people have started to turn their attention to the Christmas holiday following earlier security scares.
In September, anti-terrorism police said they had thwarted an imminent threat to behead a random member of the public and days later, a teenager in the city of Melbourne was shot dead after attacking two anti-terrorism officers with a knife.
EVACUATING BY LADDER
Dozens of armed police surrounded the cafe after the siege began around 9:45 a.m. (22:45 GMT on Sunday). The area is home to the Reserve Bank of Australia, commercial banks and close to the New South Wales state parliament.
"I walked up to the door and then everyone was sitting down and the door's locked which is pretty weird because it's never locked and there was one guy walking around with a hat and a beard," a man who identified himself as Bruno, a worker at the cafe, told the Australian Broadcasting Corp, referring to the suspected assailant. He said he then turned away.
The Reserve Bank of Australia said staff had been locked down inside the building and were all safe.
The nearby U.S. consulate was also evacuated, according to an embassy spokeswoman, along with the Sydney Opera House. Tourists were being let back into the world-famous venue by early afternoon.
India's parliamentary affairs minister said an Indian IT professional may be among the hostages.
"Whatever steps need to be taken, are being taken. We don't want to discuss it because there is some information that one of our Indian IT professionals also is there," Venkaiah Naidu told reporters.
BANKS AND SHOPS CLOSE
In the biggest security operation in Sydney since a bombing at the Hilton Hotel killed two people in 1978, major banks closed their offices in the central business district and people were told to avoid the area, leaving large parts of the area all but deserted by mid-afternoon.
Muslim leaders urged calm, with the Australian National Imams Council condemning "this criminal act unequivocally" in a joint statement with the Grand Mufti of Australia.
Traders in currency markets said the hostage news may have contributed to a dip in the Australian dollar, which was already under pressure from global risk aversion as oil prices fell anew.
Ray Hadley, a radio disc jockey, said he had been contacted by a hostage and could hear the suspected gunman issuing orders in the background. Police declined to comment.
Network 10 reported that two female hostages had called with claims from the gunman that two bombs were planted elsewhere in the city. Social media posts by alleged hostages claimed the gunman wanted to speak directly with Prime Minister Abbott.
Police said they were aware of media reports but said the "situation is contained in one area".
Concerns about an attack in Australia by Islamists have been growing for more than a year, with the security agency raising its national terrorism public alert to "high" in September.
That month, a spokesman for the Islamic State urged supporters in Western nations, including Australia, to attack civilians or military personnel at home.