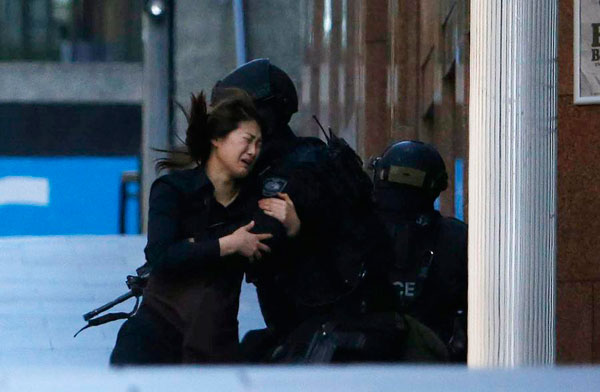 A hostage runs towardsa police officer outside Lindt cafe, where other hostages are being held, in Martin Place in central Sydney, Dec 15, 2014. [Photo/Agencies]
SYDNEY - Heavily armed Australian police stormed a Sydney cafe early on Tuesday morning and freed a number of hostages being held there at gunpoint, in a dramatic end to a 16-hour siege in which three people including the attacker were killed.
Police have not publicly identified the gunman but a police source named him as Man Haron Monis, an Iranian refugee and self-styled sheikh known for sending hate mail to the families of Australian troops killed in Afghanistan. He was charged last year with being an accessory to the murder of his ex-wife.
Prime Minister Tony Abbott said the gunman was well known to authorities and had a history of extremism and mental instability.
During the siege at the Lindt cafe in Sydney's central business district, hostages had been forced to display an Islamic flag, igniting fears of a jihadist attack in the heart of the country's biggest city.
Around 2 am local time (1500 GMT on Monday), at least six people believed to have been held captive managed to flee after gunshots were heard coming from the cafe.
Police then moved in, with heavy gunfire and blasts from stun grenades echoing from the building.
"They made the call because they believed at that time if they didn't enter there would have been many more lives lost," said Andrew Scipione, police commissioner for the state of New South Wales.
An investigation would determine whether hostages were killed by the gunman or died in cross-fire, Scipione told reporters just before dawn.
Police said a 50-year-old man, believed to be the attacker, was killed. Television pictures showed he appeared to have been armed with a sawn-off shotgun.
A man aged 34 and a 38-year-old woman were also killed, police said. The man was the cafe manager and the woman was a mother and barrister, local media reported. Four were wounded, including a policeman hit in the face with shotgun pellets.
Medics tried to resuscitate at least one person after the raid and took away several wounded people on gurneys, said a Reuters witness at the scene. Bomb squad members moved in to search for explosives, but none were found.
So far 17 hostages have been accounted for, including at least five others who were released or escaped on Monday.
"To the people of Sydney, this was an isolated incident ... Do not let this sort of incident bring about any loss of confidence of working or visiting our city," said Scipione.
On Tuesday morning, the area near the cafe remained cordoned off, with bystanders and passing office workers leaving flowers under police tape. Flags flew at half mast across the city.
Leaders from around the world had expressed their concern over the siege, including Stephen Harper, the prime minister of Canada, which suffered an attack on its parliament by a suspected jihadist sympathizer in October.