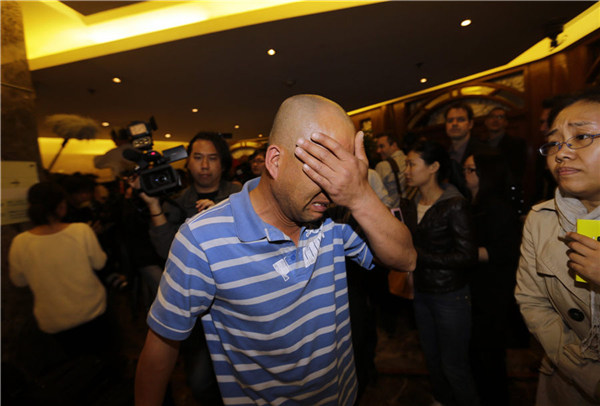 A family member of a passenger aboard Malaysia Airlines MH370 cries after watching a television broadcast of a news conference, at Lido hotel in Beijing, March 24, 2014. Relatives of Chinese passengers aboard the missing Malaysia Airlines flight reacted with hysteria on Monday after the Malaysian prime minister announced the jet ended its journey in the remote Southern Indian Ocean. [Photo/Agencies]
It was the news that families of passengers aboard Malaysia Airlines Flight 370 didn't want to hear.
And when Malaysia's prime minister announced that the plane had gone down in the southern Indian Ocean and nobody among the 229 passengers had survived, there were screams, cries and disbelief.
"My son! My son!" yelled a woman who collapsed to her knees, tears streaming down her face. She was among family members in Beijing who had been called to a hotel near the capital's airport to hear the announcement. They soon filed out, in heart-wrenching grief.
"All my family are gone," screamed a woman who burst out of the Metropark Lido hotel's grand ballroom in a frenzy.
The missing jet has consumed the world's attention and a multinational force of planes, ships and satellites for 17 days. Search teams from 26 partners have pored over radar data and searched a wide swath of Asia for weeks but no confirmed wreckage has been found.
Some of the grief-stricken relatives were wheeled from the briefing room on stretchers, and one group of relatives smashed the lens of a reporter's camera, CNN reported.
Meanwhile, with the location of Flight 370 itself still unknown, the US Navy sent a black-box locator on a ship to the site to find the plane's flight recorder, the Department of Defense said.
Malaysian Prime Minister Najib Razak announced the news Monday night in a statement to reporters in Kuala Lumpur. The information, he said, was based on a study of data from a satellite that had received the final known signals from the plane as it tracked southward.
The data indicated that the jetliner flew "to a remote location, far from any possible landing sites," Razak said.
"It is therefore with deep sadness and regret that I must inform you that, according to this new data, Flight MH370 ended in the southern Indian Ocean."
In a statement to the families, Malaysia Airlines said: "We know there are no words that we or anyone else can say which can ease your pain."
Investigators have not ruled out mechanical failure, hijacking, sabotage, terrorism or issues related to the mental health of the pilots or someone else on board.
Now the hunt for the plane's wreckage and the black box aboard it that might give some hint of what happened is a race against time because the battery life of the "pinger" in the black box may have less than two weeks left.
David Gallo, an undersea black-box search expert who co-led the search for downed Air France Flight 447 off the coast of Brazil in 2011, said: "We have excellent undersea search technology. I am confident if we find some debris on the sea surface, the remains of the (Malaysian) plane can be found."
In their analysis of satellite data, Inmarsat, the UK satellite telecom company, and the British Accidents Investigation Branch determined the plane's last known location by following automated hourly pings it sent out from an onboard terminal. The investigation established that Flight 370 continued to fly for at least five hours after leaving Malaysian airspace, and had flown along one of two corridors – one arcing north and the other south, the UK Telegraph newspaper reported.
"We looked at the Doppler effect, which is the change in frequency, due to the movement of a satellite in orbit," Chris McLaughlin, Inmarsat's senior vice president of external affairs was quoted as saying. The information was relayed to Malaysian officials by March 12 but Malaysia's government did not publicly acknowledge it until March 15, the Wall Street Journal reported. The passengers included 20 employees of Texas-based Freescale Semiconductor – engineers or specialists involved in projects to streamline and cut costs at manufacturing operations in China and Malaysia.
The employees were working to make the company's chip facilities in Tianjin, China, and Kuala Lumpur more efficient. They were based in those two locations and traveled back and forth on a regular basis to work on different projects, according to the company.
While they accounted for less than 1 percent of Freescale's 16,800 employees, they were doing specialized work and were part of a broad push by CEO Gregg Lowe to make Freescale more cost-effective.
A Freescale spokeswoman did not return a call requesting comment on the latest development in the saga of the missing plane.