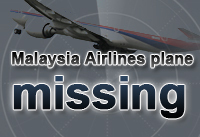 Passengers' and their nationalities:
Chinese 154 
Malaysia 38
India 5
Indonesia 7
Australia 6
France 4
USA 3 
New Zealand 2
Ukraine 2
Canada 2
Russian 1
Italy 1
Netherlands 1
Austrian 1
China on Friday again urged Malaysia to take the lead in coordinating international search efforts for missing flight MH370.
"We hope Malaysia can enhance collection and analysis of the information and help all forces search more efficiently," Foreign Ministry spokesman Hong Lei said at a regular news briefing.
Hong said Malaysia had responded to China's request to verify rumors that the missing Malaysia Airlines flight MH370 turned back from its scheduled course before vanishing.
"The Malaysian side informed us of latest information regarding the missing flight on Thursday through diplomatic channels," he said, adding that the information was consistent with that released by Malaysian Defense Minister and Acting Transport Minister Hishammuddin Hussein at a press conference on Thursday.
Malaysia has made tremendous search and rescue efforts in a candid manner since the flight lost contact last Saturday, said the spokesman.
While the whereabouts of the plane remain unknown, passengers' relatives and the Chinese public are very worried, he said.
China also urged Malaysia to give information on the search in the Strait of Malacca and the Andaman Sea in a timely manner, he added.
According to the spokesman, the Chinese Marine Search and Rescue Center has requested COSCO, China Shipping, Sinotrans and other companies to divert commercial ships to the search area when passing through the Strait of Malacca, to look out for floating objects.
China appreciates India's participation in the search in the Andaman Sea, he said.
Chinese search forces, with eight vessels, two military planes and five helicopters, scoured 51,197 square kilometers of surface waters by 6 pm Thursday for the missing jet, but no suspect objects have been found, authorities said on Friday.
A working group sent by the Chinese government arrived in the Malaysian capital on Monday. They have delivered the requests of Chinese passengers' families to the Malaysian side, Hong said.
Premier Li Keqiang said on Thursday that China will not give up its search for for the aircraft with 154 Chinese aboard "as long as there is a glimmer of hope".
Li said the government had asked all parties in the search to coordinate their efforts to locate the missing plane as soon as possible.
The Chinese government has activated a comprehensive contingency response and search operation, according to the premier.
Flight MH370, a Boeing 777-200ER, went missing suddenly on its way to Beijing last Saturday morning shortly after taking off from Kuala Lumpur. The plane was carrying 227 passengers and 12 crew, including 154 Chinese.