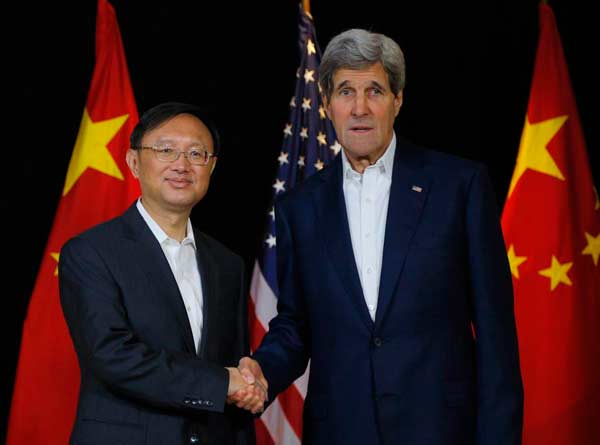 China's State Councilor Yang Jiechi (L) and United States Secretary of State John Kerry shake hands as they arrive for talks in Boston, Massachusetts, Oct 18, 2014. [Photo/Agencies]
China's State Councilor Yang Jiechi met with US Secretary of State John Kerry in Boston on Saturday for the second day on his US visit, which is to "pave the ground" for US President Barack Obama's visit to China next month.
Making remarks before their meetings Saturday morning, Yang and Kerry highlighted issues the two will be discussing, including the US-China relations, the upcoming APEC summit in Beijing, Ebola, climate change and other international hotspot issues.
"The purpose of my visit to Boston and then to Washington is really to pave the ground for President Obama's visit to China in November and also for participation of the President in the APEC informal leadership meeting to be hosted by China," said Yang.
Yang noted that since President Xi Jinping and US President Barack Obama's meeting in Sunnylands last June, the two countries have decided to work to build this new model of major country relationship between China and the United States and have made "much progress".
"We believe that we should continue to work together to deepen our mutual trust and to put our efforts to the major areas of cooperation while on the basis of mutual respect we can properly handle any kind of difference between us," Yang said.
Yang and Kerry started their informal talk Friday night over dinner, where Kerry invited Yang to his home in Boston's Beacon Hill neighborhood.
"There are many areas where we are working hard," Kerry said, referring to Ebola, Afghanistan, Iran, ISIL, counterterrorism, climate change and the Korean Peninsula nuclear issue.

Xi and Obama will meet on the sidelines of the APEC Economic Leaders' Meeting in Beijing next month.
Emphasizing the importance of the Asia Pacific region, Yang said the two largest economies need to "work together to build up even more cooperation" in the region.
"This is the area which has experienced robust economic development, and I'm sure that the APEC meeting will go further to bring about more connectivity, innovative development, and to shape a greater future for the region," Yang said.
yuweizhang@chinadailyusa.com