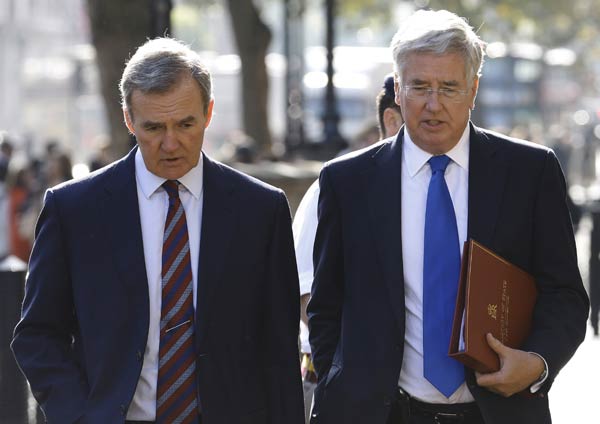 Britain's Defence Secretary Michael Fallon (R), and Chief of the Defence Staff Nick Houghton, arrive for a Cobra meeting at the Cabinet Office in London October 8, 2014. [Photo/Agencies]
LONDON -- Britain will increase its support to tackle the Ebola disease in West Africa, including sending 750 servicemen there, a government spokesperson said Wednesday.
The government on Wednesday held an emergency meeting chaired by Prime Minister David Cameron to discuss the issue of Ebola.
The spokesperson said the servicemen will help with the establishment of Ebola treatment centers and an Ebola training academy.
"The Ebola outbreak in West Africa is already a global threat to public health and it's vital that the UK remains at the forefront of responding to the epidemic," said Defence Secretary Michael Fallon, who attended the emergency meeting.
Britain's further support will include the deployment of Royal Fleet auxiliary ship Argus and three Merlin helicopters, aircrew and engineers in the region to provide transport support to medical teams and aid experts, which will involve around 250 people.
More than 200 military personnel will be sent to run a World Health Organization (WHO)-led Ebola training facility that will assist in the training of health care workers, logisticians and hygiene specialists.
In addition, 300 servicemen have joined the existing British task force plans focused on delivering support to the Sierra Leone government.
As of Oct. 5, the Ebola disease has killed 3,879 people and the vast majority of deaths were in Guinea, Liberia and Sierra Leone, according to a latest WHO report.