MADRID - The protesters, chanting "Assassins!" as they scuffled with police in front of a suburban Madrid apartment complex, made their demand clear: No matter how desperate officials might be to stop the spread of Ebola, an innocent pet must not be made a casualty.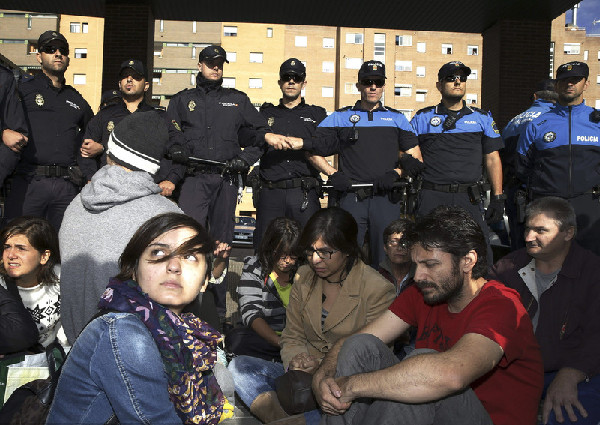 Some 50 people protest against the slaughter of nurse Teresa Romero's dog outside ebola infected nurse's home in Alcorcon, outside Madrid, Spain, October 8, 2014. [Photo/IC]
By nightfall Wednesday, that campaign to save one family's dog had turned in to a global outcry when the protest detonated online, generating hundreds of thousands of petition signatures and more social networking mentions than teen idol Justin Bieber. In the end, though, it did no good - Spanish health officials announced the pet had been euthanized and its body incinerated.
The brief but intense battle over the life of Excalibur, a light brown mixed breed belonging to a Spanish nursing assistant and her husband, began soon after the woman was diagnosed with the deadly virus Monday, contracted when she treated a victim who came from Sierra Leone.
Officials from Madrid's regional government got a court order Tuesday to euthanize the pet, despite uncertainty over whether the dog was also infected or risked spreading the disease to humans. By that afternoon, 30 to 40 animal rights activists had taken up positions outside nursing assistant Teresa Romero's apartment complex, determined to prevent officials from entering.
Then Romero's quarantined husband, Javier, recruited a veterinarian who hosts a popular radio talk show in a bid to spare his dog's life.
"I'm in the hospital and I'm making a call to all people to help me save my dog Excalibur because they want to kill him just like that, without following any procedure,'' Javier Romero said in a video appeal from his hospital room. Within hours, the cause went viral.
On Twitter, the hashtag (hash)SalvemosaExcalibur -"Let's Save Excalibur" - was tweeted nearly 400,000 times in 24 hours, making it the social networking site's second most popular meme worldwide. That outpaced new mentions of Bieber, and was second only to a hashtag drawing attention to a Syrian village on the border with Turkey under attack from the Islamic State militant group.
"We need to save Excalibur's life!!," a person self-identified as Massiel Ayleen tweeted. "Spain save him don't sacrifice him, he deserves treatment."
In an equally short time, a petition set up on the Change.org website demanding the dog's life be saved garnered more than 380,000 signatures, and a second petition gathered 70,000 more.
At Romero's apartment complex, the dog was seen pacing the balcony Wednesday. Police pulled away activists who blocked the road Wednesday when firefighters and workers in white hazardous materials suits tried to entered the complex.
But after refusing the say when the dog would be taken away, the Madrid regional government announced Wednesday evening that it had euthanized the pet.
Excalibur was "sedated beforehand to avoid suffering," Madrid's regional health agency said in a statement.
The corpse was then "put into a sealed biosecurity device and transferred for incineration at an authorized disposal facility," the statement said.
The health agency said that the dog was killed because it posed a risk of transmitting the disease to humans.
There is no documented case of Ebola spreading to people from dogs. But at least one major study suggests dogs can get the disease without showing symptoms. Experts say they are uncertain of what risk that poses to humans. Spanish authorities, though, were taking no chances.
When the white veterinary van carrying Excalibur's body left the apartment complex Wednesday, black plastic covered the outside of the windows. Dozens of protesters stood in front of it and forced it to stop, briefly. Then baton-wielding police officers beat back the crowd and the van drove away.