Ebola infects nurse in Spain, widening worries
Husband in quarantine; EU demands explanation of why precautions failed
In a case underscoring the perils of caring for Ebola patients, a nurse in Spain has come down with the disease - the first time the virus has been contracted outside Africa during the current epidemic.
The 44-year-old nurse is in stable condition, it was confirmed early on Tuesday.
The nurse's illness illustrates the danger that healthcare workers face not only in poorly equipped West African clinics, but also in more sophisticated medical centers of Europe and the United States, said Dr William Schaffner, an infectious disease expert at Vanderbilt University.
"At greatest risk in all Ebola outbreaks are healthcare workers," he said.
The nurse's husband is now in quarantine in a hospital, the head of Spain's public health service, Mercedes Vinuesa, told the Spanish parliament on Tuesday.
The European Union said on Tuesday it has asked Spain to explain how the nurse contracted the deadly disease.
The European Commission "sent a letter Monday to the Spanish health minister to obtain some clarification" of how this had happened, despite precautions, a spokesman said.
"There is obviously a problem somewhere," commission spokesman Frederic Vincent said, at a time when all EU member states are supposed to have taken measures to prevent an outbreak.
The development came on Monday as another US resident with the disease arrived back in the country for treatment. US President Barack Obama said the government was considering ordering more careful screening of airline passengers traveling from the outbreak region.
The unprecedented Ebola outbreak this year has killed more than 3,400 people in West Africa and become an escalating concern to the rest of the world. It has taken an especially devastating toll on healthcare workers, sickening or killing more than 370 in the hardest hit countries of Liberia, Guinea and Sierra Leone - places that already were short of doctors and nurses.
The Spanish nurse was part of the medical team that treated a 69-year-old Spanish priest, Manuel Garcia Viejo, who died in a Madrid hospital late last month, Spain's health minister said on Monday.
The sick priest had been flown home from his post in Sierra Leone, and the nurse is believed to have contracted the virus from him. She went to a Madrid hospital with a fever on Sunday, 10 days after the priest died, and was placed in isolation. She was transferred early Tuesday to Madrid's Carlos III hospital, where the priest and a second priest sick with Ebola were cared for until they died.
The World Health Organization confirmed that until now there had not been a previous transmission outside West Africa in the current outbreak.
In the US, video journalist Ashoka Mukpo, who became infected while working in Liberia, arrived at the Nebraska Medical Center in Omaha, where another Ebola patient had been treated. It's not clear how he was infected. It may have happened when he helped clean a vehicle someone died in, said his father, Dr Mitchell Levy. On Monday, his symptoms of fever and nausea still appeared mild, Levy said.
"It was really wonderful to see his face," said Levy, who talked to his son over a video chat system.
Mukpo is the fifth US resident sick with Ebola who has been brought back from West Africa for medical care. The others were aid workers, three of whom have recovered, while one remains hospitalized.
AP - AFP - Reuters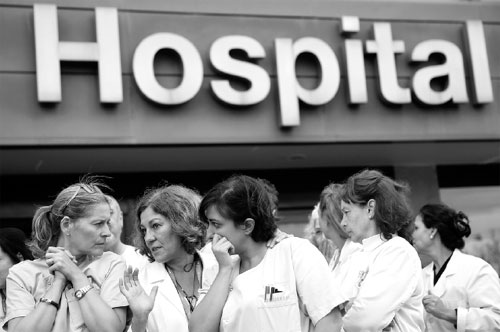 Health workers attend a protest outside La Paz Hospital on Tuesday, calling for Spain's Health Minister Ana Mato to resign after a Spanish nurse contracted Ebola, in Madrid, on Monday. Andrea Comas / Reuters
(China Daily 10/08/2014 page11)
Today's Top News
Editor's picks
Most Viewed