Another UN official in Liberia contracts Ebola
An international medical official with the UN Mission in Liberia has tested positive for the Ebola virus and is receiving treatment, the UN said on Wednesday.
The official, who was not identified, is the second member of the mission, known as UNMIL, to contract Ebola. The first died on Sept 25.
Meanwhile, Thomas Eric Duncan, the first person diagnosed with Ebola in the United States, died on Wednesday morning at a hospital in Dallas, Texas, a hospital spokesman said.
The world's worst outbreak of Ebola has killed more than 3,400 people, predominantly in Liberia, Guinea and Sierra Leone.
The staff member reported having symptoms to UNMIL medics on Sunday, a statement said.
"The UNMIL medical team has conducted immediate and robust contact tracing to ensure all people that came into contact with both staff members while they were symptomatic are assessed and quarantined," it said.
All staff members considered at risk have been isolated, and ambulances and other locations have been decontaminated.
Liberia has had 2,210 deaths from Ebola as of Saturday, the government said, adding 212 to the death toll since a previous update published by the World Health Organization, which gave figures as of Sept 28.
Meanwhile, one more Spanish healthcare worker was hospitalized for monitoring for Ebola on Wednesday, bringing to six the number of hospitalizations in the capital Madrid where a nurse has been infected with the disease, a hospital official said.
In the latest case, a nurse was quarantined at Madrid's La Paz-Carlos III hospital on Wednesday morning as a precaution, a spokesman for the hospital said.
Another nurse was admitted to the hospital with a fever on Tuesday night and put in quarantine for monitoring, he added, confirming Spanish media reports.
Three other people had been quarantined at the hospital for monitoring after a nurse who works there was diagnosed with Ebola on Monday, the first case of transmission of the disease outside of Africa.
The woman in her 40s, identified by Spanish media as Teresa Romero, had cared for two elderly Spanish missionaries who died from the virus after their return from West Africa.
The woman's husband, considered at "high risk", was among the six people hospitalized.
The World Bank warned on Wednesday that the Ebola epidemic could deal a $32-billion-plus blow to the West African economy over the next year if officials cannot get it under control.
If efforts to halt its spread out of Liberia, Sierra Leone and Guinea are not successful by December, the entire region faces a real threat of economic catastrophe, the Bank said in a new report.
Reuters - AFP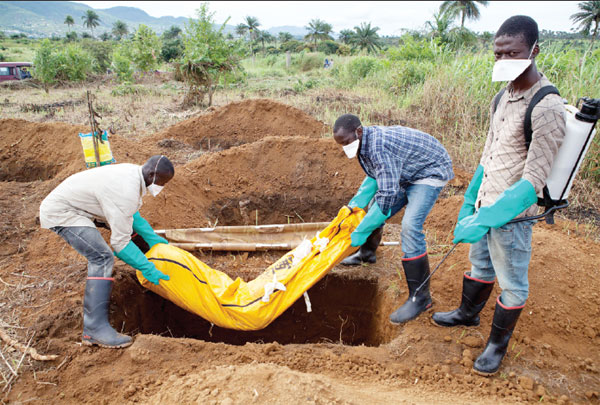 Volunteers in protective clothing bury the body of a person who died from Ebola in Waterloo, some 30 kilometers southeast of Freetown, Sierra Leone, on Tuesday.  Florian Plaucheur / Agence France-Presse
(China Daily 10/09/2014 page12)
Today's Top News
Editor's picks
Most Viewed