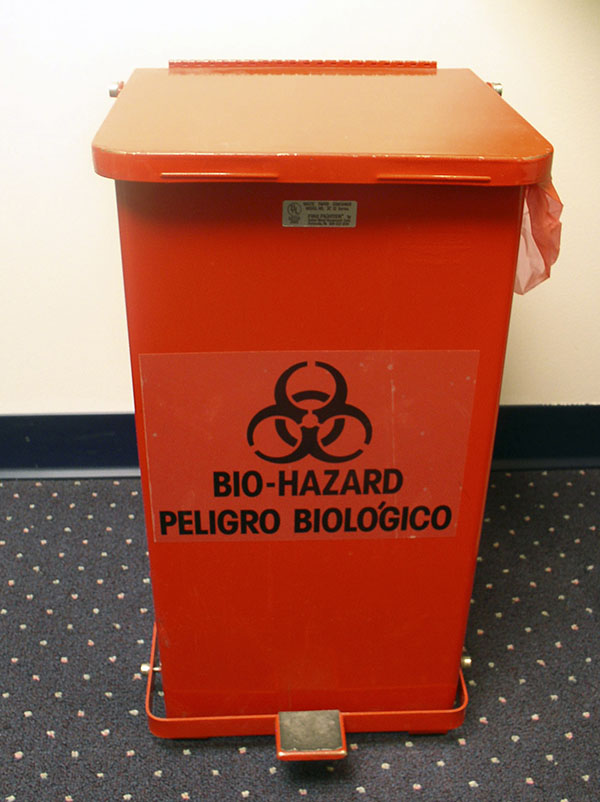 A bio-hazard waste container is seen in an undated handout photo provided by the Centers for Disease Control and Prevention (CDC) in Atlanta. U.S. hospitals may be unprepared to safely dispose of the infectious waste generated by any Ebola virus disease patient to arrive unannounced in the country, potentially putting the wider community at risk, biosafety experts said. [Photo/Agencies]
A TEMPORARY FIX
Part of Emory's solution was to bring in one of the university's large-capacity sterilizers called an autoclave, which uses pressurized steam to neutralize infectious agents, before handing the waste off to its disposal contractor for incineration.
Few hospitals have the ability to autoclave medical waste from Ebola patients on site.
"For this reason, it would be very difficult for a hospital to agree to care for Ebola cases - this desperately needs a fix," said Dr Jeffrey Duchin, chair of the Infectious Diseases Society of America's Public Health Committee.
Dr. Gavin Macgregor-Skinner, an expert on public health preparedness at Pennsylvania State University, said there's "no way in the world" that US hospitals are ready to treat patients with highly infectious diseases like Ebola.
"Where they come undone every time is the management of their liquid and solid waste," said Macgregor-Skinner, who recently trained healthcare workers in Nigeria on behalf of the Elizabeth R. Griffin Research Foundation.
Skinner said the CDC is working with DOT to resolve the issue. He said the CDC views its disposal guidelines as appropriate, and that they have been proven to prevent infection in the handling of waste from HIV, hepatitis, and tuberculosis patients.
Joe Delcambre, a spokesman for DOT's Pipeline and Hazardous Materials Safety Administration, could not say whether requiring hospitals to first sterilize Ebola waste would resolve the issue for waste haulers. He did confirm that DOT is meeting with CDC.
Metzger said his members are also meeting with officials from the DOT, the CDC and the Environmental Protection Agency to sort out the issue.
Until the matter is resolved, however, "We're bound by those regulations," he said.