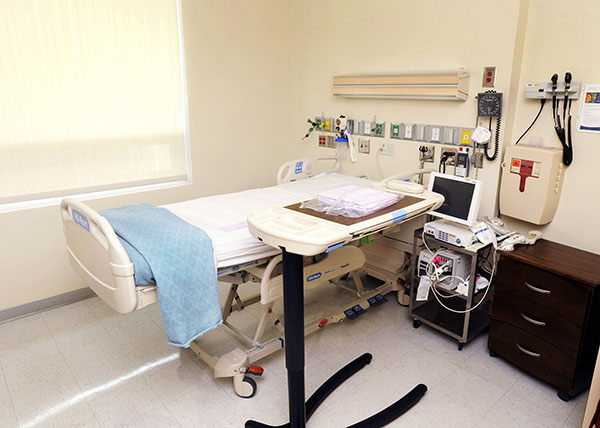 An isolation room at Emory University Hospital in Atlanta is shown in this undated file handout photo courtesy of Emory Hospital. U.S. hospitals may be unprepared to safely dispose of the infectious waste generated by any Ebola virus disease patient to arrive unannounced in the country, potentially putting the wider community at risk, biosafety experts said. The issue created problems for Emory University Hospital in Atlanta, the first institution to care for Ebola patients here. [Photo/Agencies]
NOT IF, BUT WHEN
The worst Ebola outbreak on record is now projected to infect as many as 20,000 people in West Africa by November, while US officials have said that number could rise above 550,000 by mid-January without an international intervention to contain its spread. Experts say it is only a matter of time before at least some infected patients are diagnosed in US hospitals, most likely walking into the emergency department seeking treatment.
Already there have been several scares. As of Sept. 8, as many as 10 patients have been tested by US hospitals for suspected Ebola cases, Dr. Barbara Knust, team leader for the CDC's Ebola response, said at a medical meeting this month. All tested negative.
The CDC has issued detailed guidelines on how hospitals can care for such patients, but their recommendations for handling Ebola waste differs from the US Department of Transportation, which regulates the transportation of infectious waste.
CDC advises hospitals to place Ebola-infected items in leak-proof containers and discard them as they would other biohazards that fall into the category of "regulated medical waste." According to DOT guidelines, items in this category can't be in a form that can cause human harm. The DOT classifies Ebola as a Category A agent, or one that is potentially life-threatening.
DOT regulations say transporting Category A items requires special packaging and hazmat training.
CDC spokesman Tom Skinner said the agency isn't aware of any packaging that is approved for handling Ebola waste.
As a result, conventional waste management contractors believe they can't legally haul Ebola waste, said Thomas Metzger, communication director for the National Waste & Recycling Association trade group.