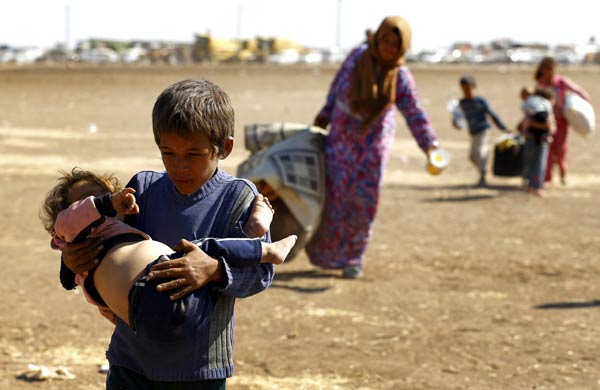 A young Syrian Kurdish refugee boy carries an infant after crossing the Syrian-Turkish border, near the southeastern town of Suruc in Sanliurfa province September 23, 2014. [Photo/Agencies]
GENEVA -- More than 138,000 Syrian refugees, mainly ethnic Kurds, fled from the northern Syria into southern Turkey over the weekend, according to latest figures released by the Office of the United Nations High Commissioner for Refugees (UNHCR) on Tuesday.
The latest arrivals crossed the border through two remaining open border points. Turkish authorities are managing the entry of refugees through security, health checks including measles and polio vaccination for very young children, and registrations, said Melissa Fleming, UNHCR spokesperson.
"Our field staff report the majority of new arrivals are women, children and the elderly, who arrive exhausted having walked several kilometers to safety on a dusty, rough road, with their luggage," Fleming told a press conference.
The UN refugee agency, in coordination with Turkish authorities, is preparing for the possibility of hundreds of thousands more Syrian refugees arriving in the coming days, as the battle for the northern Syrian city of Kobani and surrounding areas forces more people to flee.
Throughout the Syria conflict, the city of Kobani was relatively safe and untouched, and as many as 200,000 internally displaced people from other parts of the country had found refuge there, said UNHCR.
But with recent advances and a siege of the city by Islamic State (IS) militants, large numbers of the population, mainly from Syria's Kurdish minority, were forced to leave homes and seek safety in neighboring Turkey.
UNHCR has supplied tens of thousands of relief items including blankets, sleeping mats, jerry cans and plastic sheets, with more aid on the way.
Fleming said the first in a series of airlifts bringing aid for up to 200,000 people is expected to arrive in Turkey, from Amman, Jordan, on Wednesday, and another three flights from Amman and Copenhagen are expected to follow later in the week.
The Turkish government has set up two transit centers and continues its work on two new camps to accommodate the Syrian refugees.