Senior Chinese foreign affairs officials expressed confidence in regional economic integration on Wednesday and underlined Beijing's commitment to the upcoming APEC leadership summit in Beijing in November.
The Asia-Pacific region is "at a new stage of economic development", and China is ready to work with all parties for the region's long-term development, State Councilor Yang Jiechi said in a written message to attendees at the Pacific Economic Cooperation Council's 22nd general meeting, which got underway in Beijing on Wednesday.
The PECC is a nonprofit, policy-oriented, regional organization dedicated to the promotion of a stable and prosperous Asia-Pacific. The China National Committee for Pacific Economic Cooperation is a member and hosted this year's meeting.
At the meeting's conclusion, PECC leaders will submit a report and recommendations to the APEC member states.
Foreign Minister Wang Yi expressed support for the meeting, saying that it once again testifies to the "close ties between the PECC and APEC".
Since early this year, China and other APEC members have consulted in preparation for the APEC gathering.
Wang said in a written message to the PECC that the economies have built consensus on such priorities as advancing regional economic integration, promoting innovative development, economic reform and growth, and strengthening comprehensive connectivity and infrastructure development.
"APEC has followed the principles of voluntarism, consensus, openness, inclusiveness and win-win cooperation and achieved tangible results in building the Asia-Pacific family and community of common destiny," Wang said.
Concerns have grown over the APEC's role as Washington has pushed high-profile campaigns for a Trans-Pacific Partnership, a free-trade pact that overlaps considerably with the APEC's geography.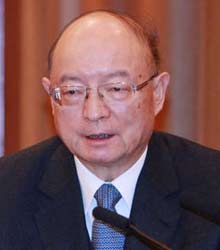 Chen Yuan
Donald Campbell, co-chairman of the PECC and chair of its Canada National Committee, told China Daily that the APEC and TPP, while different cooperative mechanisms with different requirements for members, do not need to compete with each other, and both could be inclusive.
The PECC is a key organization in which China could play a big role and influence the APEC, he said.
Chen Yuan, vice-chairman of the National Committee of the Chinese People's Political Consultative Conference, said at the meeting on Wednesday that the Asia-Pacific is expected to develop a regional partnership with "vision to the future".
The partnership is expected to aim "at a higher level of regional economic integration", and financial cooperation should be conducted to boost financing for infrastructure construction in the region, Chen said.
Contact the writers at zhangyunbi@chinadaily.com.cn and zhangzhouxiang@chinadaily.com.cn