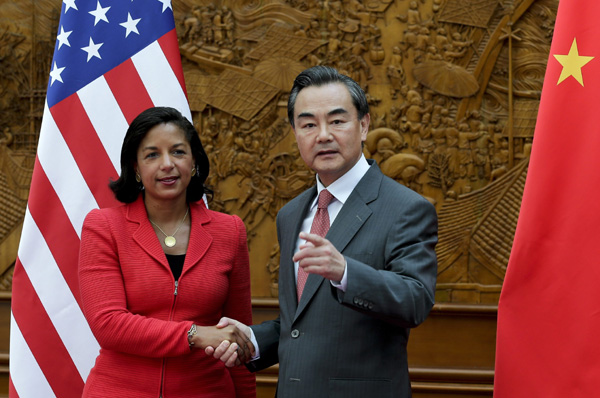 US National Security Advisor Susan Rice (L) shakes hands with Chinese Foreign Minister Wang Yi at the Olive Hall before a meeting at the Foreign Ministry office in Beijing September 9, 2014. [Photo/Agencies]
BEIJING - Chinese Foreign Minister Wang Yi met with US President Barack Obama's national security advisor Susan Rice on Tuesday to discuss Obama's upcoming visit to China.
Obama will attend November's APEC economic leaders' meeting in Beijing and pay a visit to China.
Wang said China attaches great importance to the visit and is willing to enhance communication and cooperation with the United States in preparation for the visit.
Both China and the US should make sure Obama's China tour is productive and sends a clear signal that the two countries are fully capable of working together to make the world more peaceful, Wang said.
It is necessary for China and the United States, both permanent members of the UN Security Council, to keep regular strategic communication for safeguarding world peace and stability.
He called on both sides to effectively implement the consensus reached by President Xi Jinping and President Obama to continue developing a new style of world power relations that results in real policies, actions and cooperation.
Rice said the United States is deeply committed to developing productive and mutual beneficial bilateral relationship with China.
President Obama is looking forward to coming to Beijing, Rice said. She said during her trip she hopes to discuss a range of bilateral and global issues in order to prepare for the president's upcoming visit.
Rice reiterated that the United States welcomes a strong, stable, peaceful and prosperous China, who plays a responsible role in global affairs.
Invited by Chinese State Councilor Yang Jiechi, it is Rice's first China visit since she took office in July, 2013. She will be in China from Sunday to Tuesday.