Politicians should show some vision and promote the early entry into force of the Comprehensive Nuclear Test Ban Treaty
In the early spring of 1995, I was appointed by former Chinese president Jiang Zemin as the ambassador for disarmament affairs in Geneva, and I became the chief Chinese negotiator for the Comprehensive Nuclear Test Ban Treaty. The CTBT was finally concluded in 1996. Since then, and to this day, as a member of the Group of Eminent Persons, I have been working unremittingly for the early entry into force of the treaty.
What is the key to the treaty entering into force?
I think looking back and analyzing the history behind it can help us to find the answer.
As is well known, the United States and the Soviet Union were the major driving forces of the CTBT negotiations. In order to accelerate the process, the US forced the United Kingdom to halt its nuclear tests, supported global demonstrations against France for its nuclear testing in the South Pacific, and exerted great pressure upon China as well. If the US had followed the logic of this path, it should have become the most active country in seeking to ratify and promote the CTBT.
However, after the CTBT was concluded and the five permanent members of the UN Security Council committed themselves to the moratorium on nuclear tests, the US Senate refused to ratify the treaty, and the George W. Bush administration went even further, declaring that it wouldn't even seek ratification.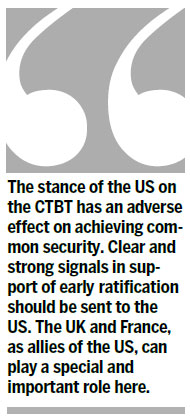 One should know that the US conducted 1,032 nuclear tests, more than half the world's total number. France conducted 210 nuclear tests, while the UK and China each conducted 45 tests. Obviously, the real intention of the US was, and is, to ensure the overwhelming superiority of its nuclear arsenal, both in quantity and quality.
Naturally, the actions of the US triggered doubts among the international community, including China. Some have asked me why the National People's Congress of China hesitates to ratify the CTBT. Personally I think it is because of US behavior. I firmly believe that, were the US to ratify the treaty, China would definitely follow.
My conviction is rooted in China's consistent approach to international security issues. As President Xi Jinping reiterated recently, China firmly pursues the path of peaceful development, hegemony or militarism is simply not in the genes of the Chinese. For the sole purpose of self-defense, China developed nuclear weapons under compulsion at a certain point in history.