Q: Librairie Avant-Garde is transforming from a traditional bookstore, which only sells books, into a shop that sells postcards, notebooks, T-thirts or even a cup of coffee. Was this an initiative or passive choice?
A: It is an upgraded model of Librairie Avant-Garde. My bookstore started making innovative cultural products from 2008, an early bird in the market in China. The decision is based on the trend of the bookstore market. After digital book readers appeared, many bookstores in the West entered a difficult time. So, we must act faster than others.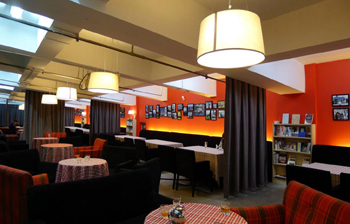 A café in the Librairie Avant-Garde 
Innovative cultural products account for 40 percent of gross sales in recent years, which generate profits reaching 50 percent of our operating sales. If we only ran a traditional bookstore, our clients will become fewer and fewer. They will come to have a look at the books they like in the bookstore, and then buy them online. But our innovative cultural products, coffee and activities of the readers will attract more people. They will not only buy books, but also gifts for friends or families. In this sense, the Librairie Avant-Garde can become a center for young people who enjoy literature and the arts. Many visitors from outside Nanjing will visit our bookstore when they come to the city. If you do not visit the Great Wall, you do not visit Beijing. It is same case, as some people say, for the Librairie Avant-Garde and Nanjing.
Our products are in line with the spirit of our books. Most of our products are made of paper, such as postcards, notebooks, etc. This is also a tailor-made industrial chain for our readers. We hope the products allow the readers to feel the warmth of paper, and experience the old way of reading and writing, a valuable life experience. We are not a stationery store. Yet, stationery products are the most popular commodity in a bookstore.