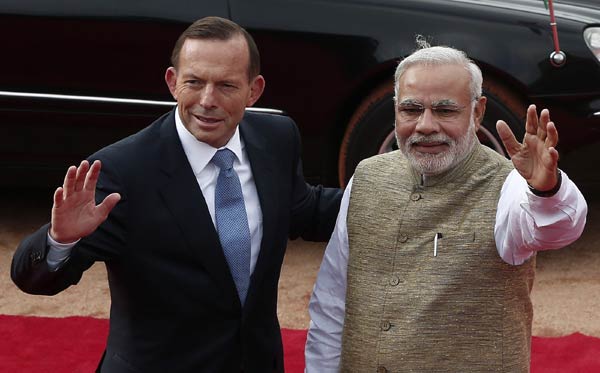 Australia's Prime Minister Tony Abbott and his Indian counterpart Narendra Modi (R) wave towards the media during Abbott's ceremonial reception at the forecourt of India's presidential palace Rashtrapati Bhavan in New Delhi on September 5, 2014. [Photo/Agencies]
NEW DELHI -- India and Australia finalized their nuclear energy deal Friday which will allow Australia to export uranium to India.
"Me and Mr Narendra Modi will today sign nuclear cooperation agreement," visiting Australian Prime Minister Tony Abbott said.
Abbott also said India and Australia were bound by "strongly convergent" trade and strategic interests.
India and Australia started negotiations on uranium sales in 2012.
Australia had in the past refused to export uranium to India because New Delhi has not signed the global non-proliferation treaty.