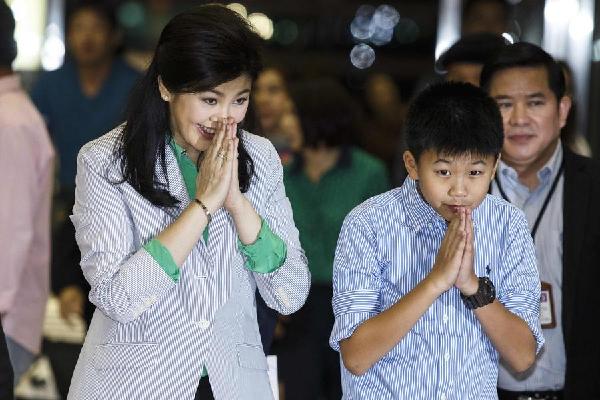 Former Thai Prime Minister Yingluck Shinawatra (L) and her son Supasek Amornchat (R) gesture in a traditional greeting to the media as they arrive at Bangkok's Suvarnabhumi Airport July 23, 2014. [Photo/Agencies]
BANGKOK - Former Thai Prime Minister Yingluck Shinawatra quietly returned home Sunday night following a few weeks of overseas trips.
The former lady leader and her son, Supasek Amornchat, arrived via a chartered flight at Don Muang airport at about 10:30 p.m. local time Sunday. They left in a van which ran off through the rear side of the airport to avoid waiting reporters in the arrival terminal area.
They were headed for their home in Lad Prao area, less than 20 kilometers from Don Muang airport.
Yingluck had been earlier expected to give a press conference upon arrival at Suvarnabhumi international airport where she had left for her overseas tour.
The deposed premier whose civilian government was ousted in the May 22 military coup traveled to European countries and the United States since July 24 after she had been allowed to leave on a temporary basis by top Thai ruler Gen. Prayuth Chan-ocha, leader of the bloodless coup.
According to Col. Winthai Suvaree, spokesman of the National Council for Peace and Order, the official name of the ruling military junta, Yingluck had been given permission to leave because she had earlier followed the junta's orders and been said to have not planned to take exile overseas.
Just before returning home, she dined somewhere in the United States. with her brother, former Thai leader Thaksin Shinawatra, who was also deposed in a previous coup of 2006, and former premier Somchai Wongsawat, who had also traveled abroad. Somchai is a brother-in-law of Thaksin and Yingluck.
Yingluck had been earlier rumored to have managed to stay overseas longer than she had requested with the ruling junta, giving possibilities of finally taking self-exile overseas just like her brother, Thaksin.
However, she has vowed to fight a legal battle involving her government's rice subsidy program under which corruption reportedly occurred with a large volume of rice stored at privately-owned warehouses in the provinces being damaged and stolen.
The former lady leader who has been accused of failing to rid the rice program of the alleged corruption involving government officials, earlier commented that the National Anti-Corruption Commission had allegedly taken "double standards" in dealing with the scandals surrounding the populist program under which the deposed government had bought an average of 500 US dollars for a ton of rice from farmers nationwide.
In the face of the loss-ridden rice program, Gen. Prayuth has asked the Bank for Agriculture and Agricultural Cooperatives to provide some three billion US dollars in overdue payments to the farmers.
But Yingluck alleged that the NACC had refused to open hearings for witnesses who may have spoken in defense of her rice program and only heard from those who had obviously acted as her political opponents.
The anti-graft agency has forwarded the case to the Office of Attorney General which is yet to submit it over to the Supreme Court judges in charge of lawsuits against politicians.
If found guilty of duty negligence charges by the Supreme Court, Yingluck could possibly be banned from politics for a number of years while the once-ruling Pheu Thai (for Thais) Party might possibly be dissolved as has been the cases of the Thai Rak Thai ( Thais love Thais) Party and the People's Power Party, all having performed as pro-Thaksin camps over the past several years.