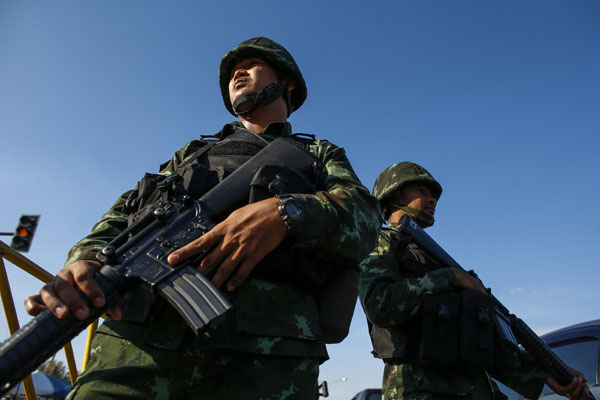 Thai soldiers take their positions near a pro-government "red-shirt" encampment in Bangkok's suburbs, a day after a coup was declared May 23, 2014. Thai army chief Prayuth Chan-ocha summoned ousted Prime Minister Yingluck Shinawatra to a meeting on Friday, a day after he seized power in a bloodless coup and said he wanted to restore order following months of turmoil. [Photo/Agencies]
BANGKOK - Thailand's military rulers detained former Prime Minister Yingluck Shinawatra on Friday, a senior officer said, after summoning her for talks a day after the army overthrew her caretaker government in a coup.
As the army moved to consolidate its grip on the country, its chief, General Prayuth Chan-ocha, set out his plans for the country, saying reforms were needed before an election. But some Thais defied martial law to protest against the takeover.
Prayuth launched his coup after rival factions refused to give ground in a struggle for power between the royalist establishment and Yingluck's populist government that had raised fears of serious violence and damaged the economy.
"We have detained Yingluck, her sister and brother-in-law," a senior military officer told Reuters. The two relatives have held top political posts.
"We will do so for not more than week, that would be too long. We just need to organise matters in the country first," said the officer who declined to be identified.
He declined to say where Yingluck was being held, but media said she was at an army base in Saraburi province, north of Bangkok. Soldiers detained politicians from both sides on Thursday after Prayuth announced the military takeover, which drew swift international condemnation.
In what appeared to be a coordinated operation to neutralise possible opposition to the coup, the military summoned the ousted Yingluck to a meeting and then banned her and 154 others, including politicians and activists, from leaving Thailand.
Yingluck is the sister of Thaksin Shinawatra, a billionaire telecommunications tycoon turned politician who won huge support among the poor but the loathing of the royalist establishment, largely over accusations of corruption and nepotism. He was ousted as premier in a 2006 military coup.
Responding to the summons, Yingluck arrived at an army facility at noon along with other politicians. Prayuth was there at the same time but there was no confirmation they met.
After Prayuth had left, nine vans with tinted windows were seen leaving but it was not clear if Yingluck was in one of them or where they were going.
An aide to a minister in the ousted government who declined to be identified said some people, including his minister, had been detained. A former aide to Yingluck said she been out of telephone contact for hours.
Yingluck was forced to step down as prime minister by a court on May 7 but her caretaker government, buffeted by more than six months of protests against it, had remained nominally in power, even after the army declared martial law on Tuesday.
Prayuth also summoned hundreds of civil servants and told them he needed their help.
"We must have economic, social and political reforms before elections. If the situation is peaceful, we are ready to return power to the people," he said.
The military has censored the media, dispersed rival protesters and imposed a nationwide 10 p.m. to 5 a.m. curfew.
The armed forces have a long history of intervening in politics - there have been 18 previous successful or attempted coups since Thailand became a constitutional monarchy in 1932.
"GET OUT DICTATORS"
Bangkok was mostly calm and life appeared normal but there was some opposition to the takeover.
Several hundred people, including students, gathered in a central shopping district despite a ban on protests by five or more people to voice their opposition to military rule. Some held signs saying "No coup" and "Get Out Dictators".
About 200 soldiers lined up across a road to contain the protesters and eventually dispersed them. There was no serious trouble but at least one person was detained, a Reuters witness said.
About 80 protesters also gathered in the northern city of Chiang Mai, Thaksin's hometown and powerbase, to denounce the putsch and call for an election, a Reuters witness said. Several policemen watched the protesters, who vowed to gather every day.
The former education minister in Yingluck's government criticised the coup in a posting on Facebook.
"A coup will only make the situation worse. Seizing power is not a way out," Chaturon Chaisang said.
The military suspended television and radio broadcasts on Thursday and made channels broadcast its material, but six free-to-air channels came back on the air late on Friday.
Several satellite channels including partisan ones on both sides, remained banned. International news channels were off the air and the military threatened to block provocative websites.
U.S. Secretary of State John Kerry said on Thursday there was no justification for a coup which would have "negative implications" for ties with its ally, especially military ones.
The military briefed diplomats on Friday though some declined the invitation, apparently as a gesture of disapproval.
Prayuth is a member of the royalist establishment generally seen as hostile to the Shinawatras, although he tried for months to keep the army out of the strife and to appear even-handed.
The army chief, who is 60 and due to retire later this year, has taken over the powers of prime minister but it was not clear if he intended to hold on to the position.
An undercurrent of a crisis that is dividing rich and poor is deep anxiety over the issue of royal succession. King Bhumibol, the world's longest-reigning monarch, is 86 and spent the years from 2009 to 2013 in hospital.
Crown Prince Vajiralongkorn does not command the same devotion as his father, but some Thaksin supporters have recently been making a point of their loyalty to the prince.
MARKET REACTION MUTED
The anti-Thaksin protesters had demanded electoral changes that would end the Shinawatras' success at the ballot box. Thaksin or his parties have won every election since 2001.
Thaksin's "red shirt" supporters were angry but said they had no immediate plans for protests, but many political analysts were predicting tension and violence.
Mass protests by Thaksin's well-organised loyalists would be a major test for the military.
In 2010, more than 90 people were killed in clashes, most when the army broke up protests against a pro-establishment government that had taken office after a pro-Thaksin administration was removed by the courts in 2008.
Investors have generally taken Thailand's upheavals in their stride and the market reaction to the coup was muted.
The baht was, at around 32.60 per dollar, firmer than its low point on Thursday of 32.70. The stock market opened down 2 percent but rallied to end 0.6 percent lower.
Thailand's economy contracted 2.1 percent in the first quarter of 2014 largely because of the prolonged unrest, which has frightened off tourists and dented confidence, bringing fears of recession. (Additional reporting by Apornrath Phoonphongphiphat, Aukkarapon Niyomyat and Bangkok bureau; Writing by Robert Birsel and Alan Raybould; Editing by Alex Richardson)