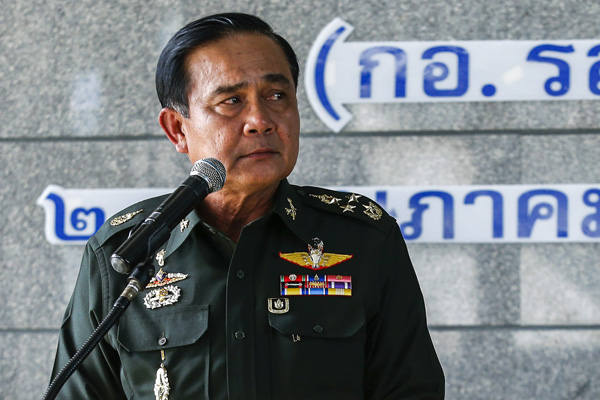 Thai army chief General Prayuth Chan-ocha speaks during a news conference at the Army Club after the army declared martial law nationwide to restore order, in Bangkok May 20, 2014. [Photo/Agencies]
BANGKOK - Thai army chief General Prayuth Chan-ocha set out his plans for the country on Friday, a day after seizing power in a coup, saying reforms were needed before an election can be held and enlisting the help of the civil service.
Prayuth launched his coup after rival factions refused to give ground in a struggle for power between the royalist establishment and a populist government that had raised fears of serious violence and damaged the economy.
Soldiers detained politicians from both sides when Prayuth announced the military takeover, which drew swift international condemnation, after talks he was presiding over broke down.
The military summoned ousted Prime Minister Yingluck Shinawatra to a meeting and then banned her and 154 others, including politicians and activists, from leaving the country.
Prayuth also summoned hundreds of civil servants and told them he needed their help.
"I want all civil servants to help organise the country," he said. "We must have economic, social and political reforms before elections. If the situation is peaceful, we are ready to return power to the people."
Yingluck is the sister of Thaksin Shinawatra, a billionaire telecommunications tycoon turned politician who won huge support among the poor but the loathing of the royalist establishment, largely over accusations of corruption and nepotism. He was ousted as premier in a military coup in 2006.
Yingluck arrived at the army facility at noon, a witness said. Prayuth was there at the same time but there was no confirmation they had met.
After Prayuth had left, nine vans with tinted windows were seen leaving but it was not clear if Yingluck was in one of them or where they were going. An aide to a minister in the ousted government who declined to be identified said some people, including his minister, had been detained.
A former aide to Yingluck said she been out of telephone contact for several hours.
The military has censored the media, dispersed rival protesters in Bangkok and imposed an nationwide 10 pm to 5 am curfew.
Yingluck was forced to step down as prime minister by a court on May 7 but her caretaker government, buffeted by more than six months of protests, had remained nominally in power, even after the army declared martial law on Tuesday.
Prayuth was expected to meet King Bhumibol Adulyadej at the royal palace in Hua Hin, south of Bangkok, to explain the army's move.
The armed forces have a long history of intervening in politics - there have been 18 previous successful or attempted coups since Thailand became a constitutional monarchy in 1932.