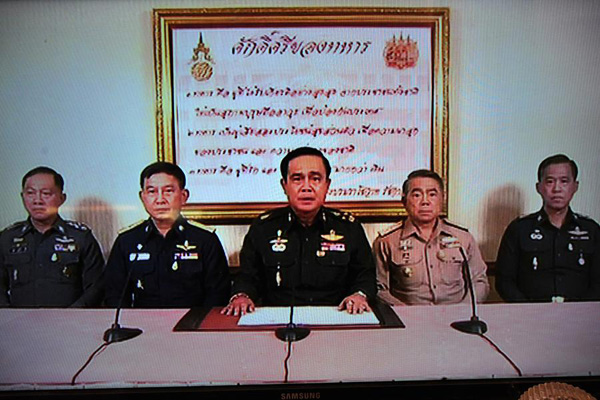 This photo captured from a video shows Thai Army Commander-in-Chief Gen Prayuth Chan-ocha (C) and other armed forces chiefs declaring a coup in Bangkok, Thailand, on May 22, 2014. [Photo/Xinhua]
The Thai military on Thursday staged a coup d'etat to overthrow an elected government and parliament and abolish the constitution following months of an unresolved political conflict.
Under the name of the National Peacekeeping Council, the military seized power and detained protest leaders, caretaker cabinet ministers and leading politicians at an army barracks after they had failed to reach agreement to end the seven-month- long political crisis.
Curfew was declared effective throughout the country from 10:00 p.m. until 05:00 a.m. while all TV news broadcasts were suspended.
In a live TV broadcast, army chief Gen Prayuth Chan-ocha who heads the National Peacekeeping Council declared the fresh coup was staged in order to prevent further unrests and violences which had intermittently occurred since last November.
That was the country's 19th military coup since 1932's change of rule from absolute monarchy to constitutional democracy.
Flanking Gen Prayuth, head of the coup makers, during a press conference at the Army club where the dialogue to end the political crisis had been held to no avail were navy chief Adm Narong Pipatanasai, air force chief ACM Prajin Juntong and police chief Pol Gen Adul Saengsingkaew.
"Innocent people were killed and injured and property damaged during sustained unrests which have continued to jeopardize public safety and national security. In order to prevent further violences and bring the situation to normal, the National Peacekeeping Council has found it necessary to stage a coup d'etat. Members of the public are suggested to remain calm and live normal life," said the army chief.
Gen Prayuth, who declared nationwide martial rule on Tuesday, assured that diplomats and foreigners currently in Thailand will be provided safety while cordial relationships between this country and varied others around the world will be maintained as usual.
Meanwhile, 35 people who had attended the second day of talk at the army club were taken to a nearby First Army Regiment base for detention. They included caretaker cabinet members, senators, prominent members of the ruling Pheu Thai (for Thais) Party and opposition Democrat Party, including former premier Abhisit Vejjajiva, and anti-government and pro-government leaders, namely Suthep Thaugsuban and Chatuporn Prompand respectively.
They had apparently failed to reach consensus about anything ranging from an election date, the sought-after naming of a non- elected prime minister to "national reforms" and prolonged street protests.
While the caretaker government, the Pheu Thai Party and Red Shirt demonstrators insisted that the only way-out from the political conflict is simply to hold a new election to pick a premier from among elected legislators in accordance with the constitution and democratic rule, the anti-government protest leaders, Democrat Party members and anti-government senators preferred the caretaker government be replaced by a non-elected premier and that no election be held until after "national reforms " have been done.
Anti-government protesters in Rajdamnern Avenue at the heart of the capital and pro-government Red Shirt protesters in Axa road in its western outskirts gradually dispersed after rifle-wielding soldiers took control of the areas.
One of the major anti-government protester leaders Luangpu Buddha Isara declared victory after the military seized power on Thursday and ordered his supporters at the Chang Wattana rally site to go home.
Luangpu said the demonstrators would start packing belongings to return home after 6 pm, while he would remain behind to oversee the dispersing that could take about two days before he would return to his temple.