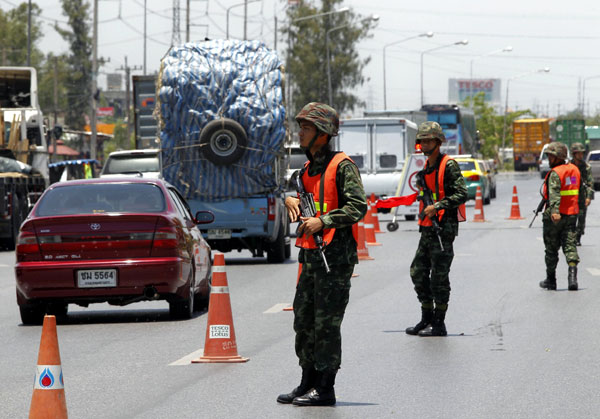 Thai soldiers stand guard at a checkpoint on a highway in Thailand's Ayutthaya province, May 21, 2014.[Photo/Agencies]
BANGKOK - Thai army chief Prayuth Chan-ocha on Wednesday called a meeting of representatives from seven political groups to discuss solutions to the country's protracted political crisis.
This was Prayuth's first attempt to broker talks after he declared martial law in the country on Tuesday, but no conclusion was reached at the two-hour meeting held at the Army Club in the capital.
The meeting was attended by representatives from the caretaker government, Pheu Thai Party, Democrat Party, the pro-government United Front of Democracy against Dictatorship (UDD), or "red shirts," the anti-government People's Democratic Reform Committee, the Senate and the Election Commission (EC).
Caretaker Prime Minister Niwutthamrong Boonsongpaisan was absent, but protest leader Suthep Thaugsuban, Democrat Party leader Abhisit Vejjajiva, UDD chairman Jatuporn Promphan, Senate Speaker-elect Surachai Liangboonlertchai and EC chairman Supachai Somcharoen were among the participants.
Prayuth asked the seven groups to review the proposals and options presented at the meeting and return with answers to a second round of talks on Thursday, deputy army spokesman Winthai Suwaree said at a press conference following the meeting.
Wednesday's discussion was conducted in a friendly atmosphere, Winthai said.