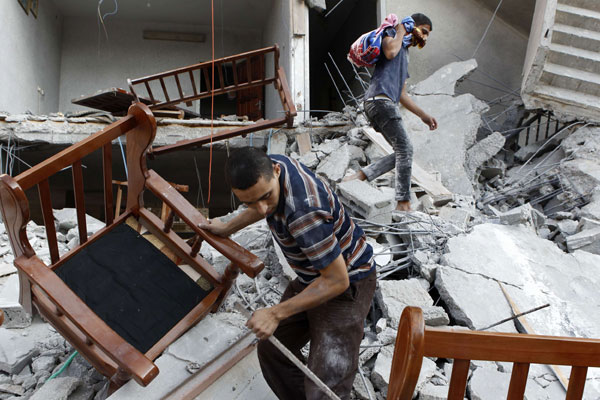 Men salvage belongings from the ruins of a home that residents say was hit by an Israeli air strike in Gaza City August 9, 2014.[Photo/Agencies]
GAZA - Four Palestinians were killed and 10 others injured as the conflict between Israel and the Gaza militants continued on Saturday morning, the second day after a 72-hour ceasefire expired.
An Israeli airstrike hit a motorbike driving in central Gaza, killing two people, local medics and eyewitnesses said.
Ashraf al-Qedra, spokesman of the Health Ministry in Gaza, said two young men were killed in an airstrike on their motorbike in the al-Mughazi refugee camp.
Meanwhile, two other Palestinians were killed in an Israeli predawn airstrike on a mosque in central Gaza's Nuseirat refugee camp, the spokesman said.
According to local residents, some mosques and houses in southern Gaza's towns of Rafah and Khan Youis were hit by Israel's airstrikes early Saturday morning. Al-Qedra said at least 10 people were injured in the airstrikes on the mosques and houses, two of them in critical condition.
The Palestinian Ministry of Religious Affairs said at least 63 mosques in Gaza have been completely destroyed since the beginning of the Israeli offensive on the Gaza Strip on July 8.
On the Gaza's side, several rockets were launched from the strip into southern Israel early in the day, which set off alarm sirens and caused no damages or injuries.
The Israeli airstrikes on the Gaza Strip were put back into gear after minor militant groups fired dozens of rockets from the coastal enclave into Israel on Friday when a 72-hour ceasefire brokered by Egypt expired.