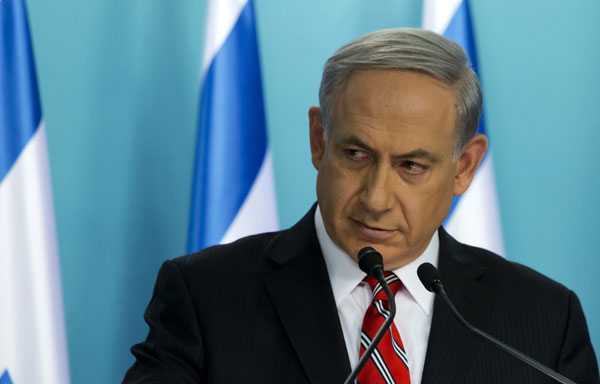 Israel's Prime Minister Benjamin Netanyahu holds a news conference at his office in Jerusalem on August 6, 2014. [Photo/Agencies]
CAIRO -- Indirect Israeli-Palestinian negotiations over extending a cease-fire in the Gaza Strip and ending a blockade of the battered territory got underway in Cairo on Wednesday, with both sides taking hard-line positions and much jockeying expected ahead.
Israel wants the Islamic militant Hamas to disarm, or at least ensure it cannot re-arm, before considering the group's demand that the territory's borders be opened. Israel and Egypt imposed a closure after the Hamas takeover of Gaza in 2007, although Egypt allows individuals to cross intermittently.
"The two sides have reviewed what they consider issues of concern," Egyptian Foreign Minister Sameh Shukri said at a news conference, describing the matter as "complicated and not easy."
Hazem Abu Shanab, a member of Fatah, one of the main factions involved in the talks, said disarmament would require Israel to pull out from occupied Palestinian territory.
"As long as there is occupation, there will be resistance and there will be weapons," he said. "The armament is linked to the occupation."
Egyptian mediators have been shuttling between the delegations. An Egyptian airport official said the Israelis were back in Cairo Wednesday evening after flying out earlier in the day. He spoke on condition of anonymity because he was not authorized to brief reporters.
Meanwhile, in Jerusalem, Israeli Prime Minister Benjamin Netanyahu defended Israel's intense bombardment of Gaza, saying that despite the high civilian death toll it was a "justified" and "proportionate" response to Hamas attacks.
Speaking to international journalists, Netanyahu presented video footage he said showed militants firing rockets from areas near schools and Hamas deploying civilians as human shields.
"Our enemy is Hamas, our enemies are the other terrorist organizations trying to kill our people and we have taken extraordinary measures to avoid civilian casualties," he said.
Nearly 1,900 Palestinians have been killed in the fighting, three-quarters of them civilians, according to the United Nations. Israel says some 900 Palestinian militants were among the dead. Sixty-four Israeli soldiers and three civilians inside Israel have also been killed.
The Palestinian delegation in Cairo is composed of negotiators from all major factions, including Hamas, and is meeting with Egypt's intelligence chief for briefings on Israel's demands.
"The most important thing to us is removing the blockade and starting to reconstruct Gaza," said Bassam Salhi, a Palestinian delegate. "There can be no deal without that."
Shukri said he hoped the cease-fire, set to expire at 8 a.m. Friday (0500 GMT), would be extended, and an Egyptian security official said Cairo was pressing Israel for an extension.
There has been no official Israeli response, though an official at Netanyahu's office said Israel has "no problem" with "unconditional extensions of the cease-fire." He, like the Egyptian security official, spoke on condition of anonymity because he was not authorized to speak to the media.
Izzat al-Rishq, a senior Hamas member, told the Palestinian news agency that the delegation has yet to receive an answer to their demands and would condition any acceptance of an extended cease-fire on how the talks progress. "Our finger is on the trigger," he said.
While negotiations are still in the early stages, the outlines of a possible solution have emerged, including an internationally funded reconstruction of Gaza overseen by a Palestinian unity government led by Palestinian President Mahmoud Abbas. The Western-backed Abbas lost control of Gaza in the Hamas takeover of 2007.
In a step toward reconstruction, Norway is organizing a donor conference, tentatively set for the beginning of September.
Regarding an easing of the blockade, a statement by the Egyptian intelligence agency indicated Egypt would not agree to major changes at the Rafah crossing between Egypt and Gaza, and the onus of lifting the border closure would fall on Israel.
"Israel is the one that sealed all the crossings from the Israeli side and it doesn't allow commodities and goods or individuals to cross, aiming at besieging the strip and throw the whole responsibility on Egypt," the statement said.
Cairo also refuses to open its border fully as long as Hamas, not the Palestinian authority led by Abbas, controls the Gaza side of the terminal.
The statement took aim at Hamas, saying it was not permitting its own wounded population to cross into Egypt. Hamas "continues to put obstacles in front of the families, allowing only its foreign members to cross while barring its Palestinian members under the pretext that Egypt is barring them," it said.
Rafah is closed to commercial traffic and only individuals are permitted to cross, but Egypt has sharply restricted travel of Gaza residents over the past year and waiting lists have grown.
Shukri, the Egyptian foreign minister, said the talks were giving priority to the Israeli-controlled crossings and how to operate them to "meet the demands of the Palestinian people."
The current round of confrontations began with the June 12 abduction and killing of three Israeli teens in the West Bank, which Israel blamed on Hamas and rounded up hundreds of its activists, a move followed by barrages of Gaza rocket fire on Israel.
Israel launched airstrikes on July 8 that it said were aimed at stopping the rocket fire, and expanded the operation on July 17 by sending in ground forces to destroy a network of tunnels used to stage attacks.
On Wednesday, Israel's Justice Ministry announced the arrest of Hussam al-Qawasmi, the suspected mastermind behind the killing of the Israeli teens. He allegedly led a three-man cell affiliated with Hamas, though the militant group has not claimed any connection to the teens' abduction and killings.
In Gaza, residents took advantage of the calm to return to their devastated homes and inspect the damage.
People made their way over buckled roads, through dangling power lines and overturned trees to inspect their neighborhoods. Along the way, rows of flattened buildings alternated with moderately damaged structures _ and the rare unscathed building.
Utility crews were working frantically to repair downed electricity and telephone lines. Gaza's only power plant was shut down after it was badly damaged by an Israeli attack and repairs are expected to take months, leaving the densely populated strip with only two to three hours of electricity a day, via Egypt and Israel.