More than 1,868 Palestinians have been killed since Israel launched its assault, with nearly 10,000 injured. Most of the casualties were civilians.

Israel's Operation Protective Edge commenced on July 8, following rocket attacks from the Gaza Strip at southern Israeli communities and a crackdown on Hamas in the West Bank. Israel said the offensive was launched to halt the rocket fire but later stressed demolishing the tunnels.
As the operation progressed and Israeli forces embarked on a ground incursion to the strip on July 17.
Fifty-six Israeli soldiers have died since Israel's ground incursion and more than 100 are hospitalized.
Three Israeli civilians have been killed in the past three weeks from rocket attacks, as Hamas and other militant groups fired more than 2,800 rockets and mortars into south, south central, central and northern Israel.
| | |
| --- | --- |
| An Israeli soldier closes his eyes and prays near the border with Gaza August 3, 2014. | Edna (L), the fiancee of a Israeli soldier, mourns during his funeral, August 3, 2014. |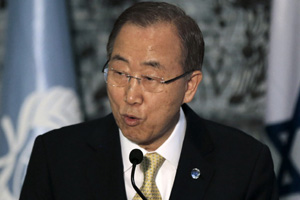 * UN Secretary-General Ban Ki-moon condemned a deadly attack on a Gaza school on Sunday as a "moral outrage and a criminal act" and demanded those responsible for the "gross violation of international humanitarian law" be held accountable.
* Ban Ki-moon underlined "the critical importance" of ending hostilities in the Gaza Strip, and strongly urged all sides to "avoid any further escalation at this time."
* A top UN official called for the ending of fighting in Gaza after a second UN school was hit by Israeli airstrike that killed at least 16 people earlier in the day.
"Enough is enough ... Stop this horrible fighting and start talking about issues," said UN Deputy Secretary-General Jan Eliasson said on Wednesday. 
* The United Nations Human Rights Council (HRC) adopted a resolution and decided to launch an inquiry into human rights violations from Israeli latest military offensive in the Gaza strip.

| | |
| --- | --- |
| * President Barack Obama said that it will be difficult to achieve a ceasefire in Gaza after the latest truce fell apart but he strongly defended Secretary of State John Kerry for his failed diplomatic drive. | * US Secretary of State John Kerry called on Hamas to immediately and unconditionally release the missing Israeli soldier. He urged the international community to step up efforts to end the attacks against Israel. |
| Activists march near the Israeli Mission to the United Nations, during a protest in Midtown, Manhattan, in New York, July 31, 2014. About two dozen protesters wore black clothing and white masks as they marched to protest against Israel's military action in the Gaza strip. | Thousands of protesters gather during a rally to demand an end to the conflict in Gaza, outside the White House in Washington August 2, 2014. Israel launched its Gaza offensive on July 8 in response to a surge of rocket attacks by Gaza's dominant Hamas Islamists. |

* Visiting Chinese Foreign Minister Wang Yi urged on Sunday both Israel and the Gaza-ruling Hamas to stop the ongoing fighting, calling on Israel to lift its blockade of the restive enclave and release the Palestinians.

* China called for a ceasefire between Palestine and Israel as violence has killed more than six hundred Palestinians and around 30 Israelis.

Foreign Ministry spokesman Hong Lei reiterated China's concern over the large number of casualties, urging the two sides to respond to the international community's call for an immediate ceasefire.

Anti-war protests all over the world
| | | |
| --- | --- | --- |
| A Jordanian takes part in a demonstration calling for end to the Israeli offensive, in front of the US embassy in Amman August 3, 2014. | A pro-Palestinian protester holds a sign during a demonstration against Israel's military action in the Gaza Strip, in Lisbon August 1, 2014. | A protester wipes away a tear during a pro-Gaza demonstration outside the Israeli embassy in London August 1, 2014. |
| Protesters hold posters and shout slogans during a rally against Israeli air strikes in the Gaza strip, in Athens July 31, 2014. | A demonstrator holds up a picture of Israel's Prime Minister Benjamin Netanyahu during a protest in San Jose July 30, 2014. | Children wearing clothes spotted with fake blood, as they protest against Israel's military action in Gaza, in Skopje July 25, 2014. |