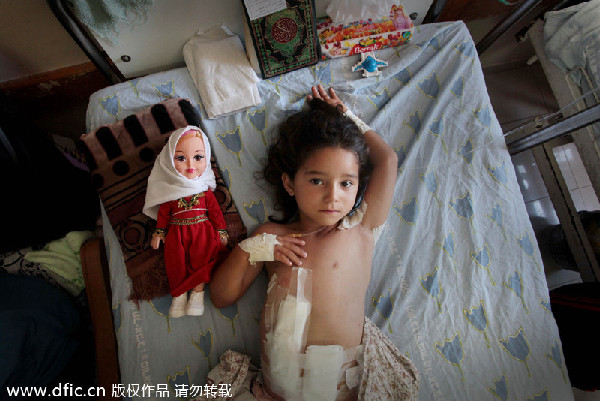 Four-year-old Palestinian girl Shayma Al-Masri, who hospital officials said was wounded in an Israeli air strike that killed her mother and two of her siblings, lies on a bed next to her doll as she receives treatment at a hospital in Gaza City, July 15, 2014. [Photo/IC]
Related: Gaza weeps in war woe 
UNITED NATIONS/NEW DELHI - Israel and Islamist militant group Hamas have agreed to a 72-hour ceasefire in their conflict in the Gaza Strip starting on Friday, US Secretary of State John Kerry and U.N. Secretary-General Ban Ki-moon said on Thursday.
The ceasefire will begin at 8 a.m. local time (0500 GMT) on Aug. 1, they said in a joint statement. The statement said "forces on the ground will remain in place" during the truce, implying that Israeli ground forces will not withdraw.
U.N. Middle East envoy Robert Serry has received assurances that all parties have agreed to the humanitarian ceasefire, the statement said.
"We urge all parties to act with restraint until this humanitarian ceasefire begins, and to fully abide by their commitments during the ceasefire," Kerry and Ban said. "This ceasefire is critical to giving innocent civilians a much-needed reprieve from violence."
Israeli and Palestinian delegations will immediately travel to Cairo for negotiations with the Egyptian government to reach a durable ceasefire, the statement said.
Israel launched its offensive on July 8 after Hamas rocket fire from Gaza intensified.
Gaza officials say 1,427 Palestinians, mostly civilians, have been killed and nearly 7,000 wounded. Fifty-six Israeli soldiers have been killed in Gaza clashes and some 400 wounded. Three civilians have been killed by Hamas shelling in Israel.
The United Nations said nearly a quarter of the 1.8 million Palestinians in the Mediterranean enclave had been displaced, with more than 220,000 seeking shelter in U.N. facilities. Eight U.N. employees have been killed in the conflict.