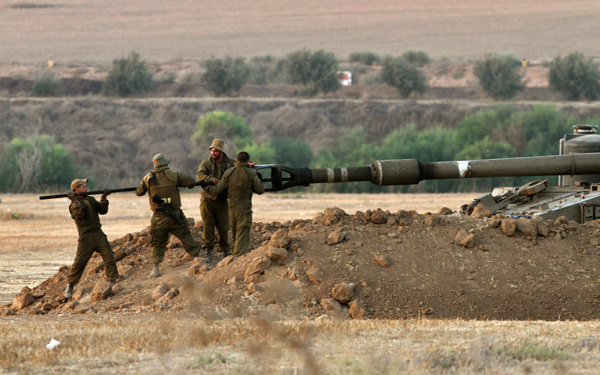 Israeli soldiers clean a 155-mm artillery gun barrel at an army deployment area near the border with the Gaza Strip, on Thursday. Gil Cohen-Magen / Agence France-Presse
International calls for end to fighting continue amid renewed shelling
Only hours into the newly - reached UN-sponsored three-day humanitarian truce, bombings, rocket firings and killings returned to the conflict-torn Gaza Strip on Friday, putting the hard-earned cease-fire on the line.
According to medical sources in Gaza, three Palestinians were confirmed dead shortly after the 72-hour cease-fire went into effect on Friday morning.
Among the three dead, two lost their lives under Israeli fire in Rafah, a town in the southern part of the Strip, while one was killed in the east neighborhood of Gaza city.
Meanwhile, Israeli media reported that two rockets were fired into southern Israel. There was no immediate response from the Palestinian militants.
There have been at least four short humanitarian cease-fires announced since the conflict began, but each has been breached by renewed fighting.
Also on Friday, an Israeli military spokesman said a mortar shell fired from the Gaza Strip on Thursday killed five of its soldiers near the border area.
"Yesterday evening, five Israel Defense Forces soldiers were killed during operational activity along the border with the Gaza Strip when a mortar was fired at the forces," a military statement said, adding that the shell hit a spot where the soldiers were gathering and waiting to enter the Hamas-ruled enclave.
Earlier last month, Israel launched its military offensive in Hamas-dominated Gaza, employing air and naval bombardments in response to a surge of cross-border rocket attacks. A ground incursion was later ordered on July 17.
So far, a total of 61 Israeli soldiers and three civilians were killed, while on the Palestinian side, at least 1,459 people were killed, mostly civilians, according the Gaza Health Ministry, adding that some 8,360 more people were wounded.
Two hours after the truce was announced, a Reuters photographer and the Gaza Interior Ministry said that Israeli tanks opened fire in the southern Rafah area. Hamas media reported that four people were killed. The Israeli military had no immediate comment.
The 72-hour break, announced in a joint statement by US Secretary of State John Kerry and UN Secretary-General Ban Ki-moon, was the most ambitious attempt so far to end more than three weeks of fighting, and followed mounting international alarm over the rising Palestinian civilian death toll.
"This cease-fire is critical to giving innocent civilians a much-needed reprieve from violence," the statement said.
After the cease-fire began at 8 am local time, Gaza's streets began to fill with Palestinian families. Laden with belongings, they streamed back to homes they had fled during fierce fighting that destroyed or damaged thousands of dwellings.
In Israel, sirens that have sent tens of thousands running for shelter every day fell silent.
"We are going back to Beit Lahiya," Asharaf Zayed, a 38-year-old father of four, said of his family's home in northern Gaza. "We hope the truce will be permanent and we won't have to go back to a UN shelter."
Israel launched its offensive in Gaza on July 8, unleashing air and naval bombardments in response to a surge of cross-border rocket attacks. Tanks and infantry pushed into the densely populated territory of 1.8 million on July 17.
Gaza officials say at least 1,459 Palestinians, most of them civilians, have been killed in the battered region and nearly 7,000 wounded. Sixty-one Israeli soldiers have been killed in the fighting and more than 400 wounded. Three civilians were killed by Palestinian rockets in Israel.
Amid strong public support in Israel for the Gaza campaign, Prime Minister Benjamin Netanyahu has faced intense pressure from abroad to stand his forces down.
Xinhua - Reuters