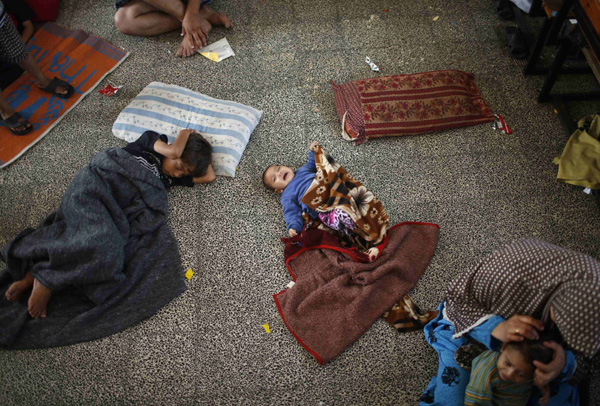 A Palestinian boy, who fled his family's house following Israeli offensive, sleeps as he takes refuge inside a classroom at a United Nations-run school in Jabaliya refugee camp in the northern Gaza Strip July 31, 2014. [Photo/Agencies]
GAZA - A fresh Israeli shelling hit the UN school in southern Gaza city Rafah on Sunday morning, killing 10 Palestinians, Ministry of Health spokesman Ashraf al-Qidra told Xinhua.
The school was housing almost 3,000 refugees, according to an UN agency for Palestinian refugees.
According to UN data, almost half a million Palestinians have been displaced since the start of Israeli military operation on July 8, among whom 240,000 are currently residing in the UN schools.
Sunday morning's shelling was not the first time that Israeli forces targeted an UN facility for sheltering. On Wednesday, at least 15 were killed and dozens injured when Israeli artillery fire hit UN school used as a shelter in northern city Jabaliya.
After the Jabaliya UN school incident, United Nations Secretary General Ban Ki-moon slammed Israel for an "outrageous" and " unjustified" attack on the UN school, saying "Nothing is more shameful than attacking sleeping children."
Meanwhile, Israeli military spokesman insisted Israel never intentionally targeted any UN facility and said the fire was Israeli response to rocket fires and mortars by Palestinians militants.
The strikes brought Sunday morning's death toll in Gaza to 47. More than 1,749 Palestinians have been killed since Israel launched its assault, with nearly 10,000 injured. Most of the casualties were civilians.