No end in sight for easing of Gaza crisis
Strike near UN school leaves 10 dead; Ban calls attack 'outrage, criminal act'
Both Israel and Hamas have vowed to keep fighting until their goals are achieved. The Gaza conflict has killed more than 1,700 people since July 8.
The Israeli military announced on Sunday that one of its soldiers, who was feared captured by Hamas militants, was killed in action during Israel's operation in the Gaza Strip.
A special committee led by Israeli Defense Forces Chief Rabbi announced the death of Lieutenant Hadar Goldin, who was killed in battle in the Gaza Strip on Friday, it said.
Hamas admitted an earlier Friday attack that killed two other Israeli soldiers, but denied holding Goldin. Goldin's death brought the Israeli army's death toll to 64 since the conflict started on July 8, the heaviest since the 2006 war against the Lebanese Hezbollah.
Palestinian shelling has also killed three civilians in Israel.
The human price for the Palestinian side was much heftier as its health officials and rights groups said on Sunday at least 1,719 Palestinians have been killed and more than 9,000 others were wounded during the past 26 days. A quarter of Gaza's population has been displaced.
Palestinian officials said that seven Palestinians were killed and 15 others injured in Israeli military offensive on Sunday.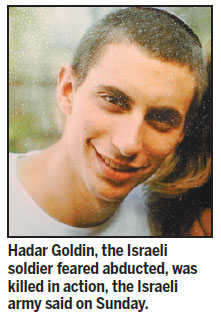 Ashraf al-Qedra, spokesman of the health ministry in Gaza, said that four Palestinians were killed in a fresh airstrike on a house in the southern Gaza Strip town of Rafah, including a 4-year-old girl.
He also said that a young man and two women were killed in a similar airstrike on a house in the town of Jabalia in northern Gaza Strip, adding that 10 more people were injured, two others critically.
After midnight, the residents said, Israeli war jets intensively struck on various areas in Gaza, and destroyed several empty houses.
A United Nations school sheltering displaced people in the southernGaza Stripwashit Sunday by what a UN official said appeared to be an Israeli airstrike, as the military struck the Hamas-ruled territory despite signaling a possible scaling-back of its offensive.
Gaza health official Ashraf al-Kidra said at least 10 people were killed and 35 wounded after the strike near a boys' school in the town of Rafah.
Robert Turner, the director of operations for the UN Pales-tinian refugee agency in Gaza, said preliminary findings indicated the blast was the result of an Israeli airstrike near the school, which had been providing shelter for about 3,000 people.
UN Secretary-General Ban Ki-moon described the deadly attack on the school as a "moral outrage and a criminal act" and called for those responsible for the "gross violation of international humanitarian law" to be held accountable.
Xinhua-AP-Reuters
(China Daily 08/04/2014 page12)
Today's Top News
Editor's picks
Most Viewed